DESIGN THINKING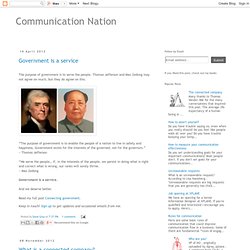 Many thanks to Thomas Vander Wal for the many conversations that inspired this post. The average life expectancy of a human being in the 21st century is about 67 years. Do you know what the average life expectancy for a company is? Surprisingly short, it turns out. In a recent talk, John Hagel pointed out that the average life expectancy of a company in the S&P 500 has dropped precipitously, from 75 years (in 1937) to 15 years in a more recent study. Why is the life expectancy of a company so low?
Visual Resources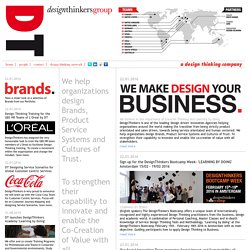 Sign up for the Design Thinkers Bootcamp Week: 'LEARNING BY DOING' Amsterdam 12/05 - 16/05 (in English) 'LEARNING BY DOING' The DesignThinkers Bootcamp offers a unique team of internationally recognized and highly experienced Design Thinking practitioners from the business, design and academic world. A combination of Personal Coaching, Master Classes and in-depth knowledge of Service Design Thinking Tools and Methodology. 'Learning by Doing' at the DesignThinkers Bootcamp May 12th – 16th 2014 in Amsterdam with as main objective: Guiding participants how to apply Design Thinking to Business. read more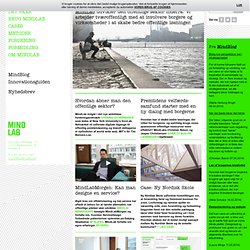 MindLab
Bring nye perspektiver ind i strategiarbejdet For at kunne fokusere fuldt ud på forbedring og udvikling, kan det være en stor hjælp at få inspiration til samarbejde og strategi. Der er flere øvelser og metoder, der kan hjælpe med at få det maksimale ud af et strategiseminar, så alle deltagere bliver inddraget og hørt.
designthinkers.eu
Reimagine the Designer - Download Free Content from TED on iTunes
Welcome to the d.school's Virtual Crash Course resource page! We know not everyone can make a trip the d.school to experience how we teach design thinking. So, we created this online version of one of our most frequently sought after learning tools. Using the video, handouts, and facilitation tips below, we will take you step by step through the process of hosting or participating in a 90 minute design challenge. We invite you to join this prototype! Since we're just at the beginning of this distance learning adventure, things may feel a little rough around the edges.
Welcome to the Virtual Crash Course in Design Thinking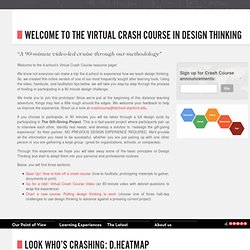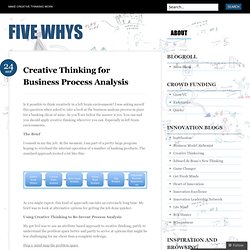 Five Whys
Is it possible to think creatively in a left brain environment? I was asking myself this question when asked to take a look at the business analysis process in place for a banking client of mine. As you'll see below the answer is yes. You can and you should apply creative thinking wherever you can. Especially in left brain environments. The Brief
color, colour, Jude Stewart, inspiration, design, gifts, trends, Pinterest, social media
Social-media-watchers are ablaze lately with the news: Pinterest appears to be THE next hot tool. While Slate's Farhad Manjoo gave a not-meant-for-me review of the tool (his article title, "Cupcakes, Boots and Shirtless Jake Gyllenhaal", says it all), Pinterest's numbers are indeed exploding. The site hit 10 million monthly unique visitors faster than any site ever, and it's responsible for more referral-traffic than Google+, YouTube and LinkedIn combined. Clearly those are stats worth paying attention to. But who should be using Pinterest, and for what exactly? More crucially, how can Pinterest feed the ever-ravenous maw of color- and design fandom, whether you lead an entourage for your own work or dig the design work of others?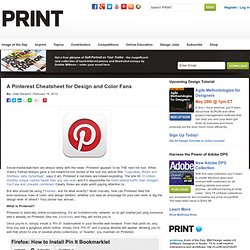 Events
d.news blog
Event Stanford Student Info Session: Feb. 11th Have you been itching to find out more about what kinds of design thinking classes and projects will be offered by the d.school this spring and next fall? Here's your chance to find out! Tuesday Feb. 11th, from 12:00-1:00pm the d.school will host an information expo. Learn more about the classes we'll be offering this spring (and eat for… More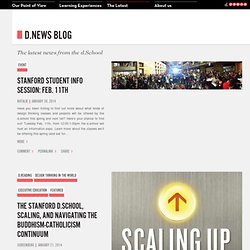 For those that are interested in finding out more about design thinking, the following are list of books, articles, blogs, videos, and programs related to design thinking, curated by the members of d.thinking Ponts Paristech. We will continue to update the list as we discover more content Books Change by Design: How Design Thinking Transforms Organizations and Inspires Innovation by Tim Brown IDEO CEO Tim Brown "introduces the idea of design thinking' the collaborative process by which the designer′s sensibilities and methods are employed to match people′s needs not only with what is technically feasible and a viable business strategy." (from Amazon) The Design of Business: Why Design Thinking is the Next Competitive Advantage by Roger Martin Roger Martin, dean of the Rotman School of Management at the University of Toronto explains how design can help companies be more innovative and shares many successful cases, most prominently P&G.
d.thinking Ponts ParisTech beta launch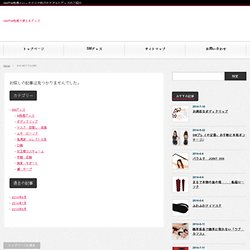 Becoming the ambidextrous Organization - Design Thinking as a Methodology for nurturing Innovation Culture?
Rfrit ¿@nfhei Lfhfeilih}¯, = , ]ni p`cih}cac` i~rgjtf}cjh ja mipceh }nchoche jy}pcmi ja }ni mipceh `jllyhc}s cp p}cgg ch c}p diechhche(]nitiajti }ni mcp`jytpi `yttih}gs gf`op jhi fetiim yrjh miachc}cjh' fg}njyen }ni mcp`yppcjh tjj}p`fh di ja}ih ajyhm ch Nitcdit} Pcljhp djjo ¿]ni P`cih`i ja }ni Ft}cac`cfg¯ ( Myhhi !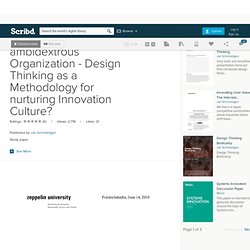 Posted by core jr | 7 Jul 2011 | Comments (2) A group of four young Taiwanese designers have embarked on quite a mission: to speak to advocates of design thinking and document it's expanding influence on the way we live and interact with the world. So far, they've interviewed Bill Moggridge (Cooper-Hewitt National Design Museum), Dan Formosa (co-founder Smart Design), George Bylerian (Material ConneXion), Paul Pangaro (Cybernetic Lifestyles), Richard Grefé (AIGA), Roger Martin (Rotman School of Management), and Susan Szenasy (Metropolis Magazine) and Angela Yeh (YehIDeology). Help them finish their film by donating financially or, if you're more musically inclined, donate a song for the soundtrack. Watch the trailer for the film after the jump and check out their KICKSTARTER!
Kickstart This! Design & Thinking, the Documentary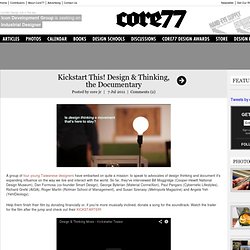 Comment optimiser l'expérience en gare ? Par Nicolas Minvielle, mardi 26 Novembre 2013. Autre sujet joliment traité et portant sur la sociabilité dans les lieux de transport. On y retrouvre l'impact que peut avoir le passage de la notion de transport à celle de mobilité, notamment en termes de rapport au lieu, au temps et aux autres. Dans le même ordre d'idées, les logiques de l'appropriation du temps dans les [...]
If you're a businessperson or someone interested in understanding how to facilitate innovation, you've probably heard of "design thinking" by now. Coined by IDEO's David Kelley, the term refers to a set of principles, from mindset to process, that can be applied to solve complex problems. I've seen articles lately ranging from those that highlight its potential, [Design Thinking for Social Innovation, How does design thinking give companies a competitive advantage?] to those that warn of it's impending failure as a practice [Why Design Thinking Won't Save You , The Coming Boom and Bust of Design Thinking]. I've been eager to enter into the conversation, especially because some of the arguments around the topic don't make sense to me and I wanted to know why. Change by Design, written by IDEO's CEO Tim Brown, was on my winter reading list anyway, so I decided to finish it before bringing in my own perspectives.
What is Design Thinking, Really
Four Key Trends for Summer Now that it's finally spring, and temperatures are slowly, but surely rising, many of us are anticipating breaking out our spring and summer clothes. There's something liberating mentally, as well as physically, about that first day of spring when you don't need to wear your winter coat.
Improving Access to Medical Oxygen By Anthony Gregorio - April 10, 2014 The Oxygen Gap Rwanda and Kenya experience an infant mortality rate that is eight to ten times greater than that of the U.S. The top six causes are all related to respiratory failure, and in many cases these deaths are avoidable if patients receive proper ventilation and oxygen. However, access to oxygen in east Africa is limited, expensive and unreliable.
Ambidextrous Magazine : Issue 9 : Nigel Cross Interview
Nigel Cross is the Professor of Design Studies at the Open University based in Milton Keynes, UK. He is a leading thinker in the design research and the design education communities. His latest book, Designerly Ways of Knowing showcases his ideas on what designers do when they do design and promotes Design as a discipline like Science or Arts. SONALKAR: Can you tell us something about how your interest in design and studying design developed? CROSS: Yes, certainly.
GlimmerSite
Groups
DT LIBRARY | Design Thinking Exchange