DESIGN THINKING
Communication Nation. Visual Resources. Designthinkers.nl | Service Design Amsterdam Customer Journey Lab Design Thinking. MindLab. Designthinkers.eu. Reimagine the Designer - Download Free Content from TED. Welcome to the Virtual Crash Course in Design Thinking. Welcome to the d.school's Virtual Crash Course resource page!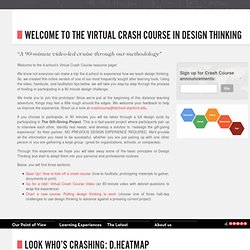 We know not everyone can make a trip the d.school to experience how we teach design thinking. So, we created this online version of one of our most frequently sought after learning tools. Using the video, handouts, and facilitation tips below, we will take you step by step through the process of hosting or participating in a 90 minute design challenge.
We invite you to join this prototype! Since we're just at the beginning of this distance learning adventure, things may feel a little rough around the edges. Five Whys. Color, colour, Jude Stewart, inspiration, design, gifts, trends, Pinterest, social media. Social-media-watchers are ablaze lately with the news: Pinterest appears to be THE next hot tool.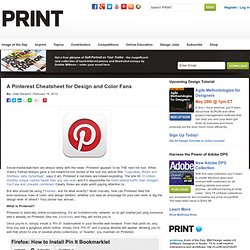 While Slate's Farhad Manjoo gave a not-meant-for-me review of the tool (his article title, "Cupcakes, Boots and Shirtless Jake Gyllenhaal", says it all), Pinterest's numbers are indeed exploding. The site hit 10 million monthly unique visitors faster than any site ever, and it's responsible for more referral-traffic than Google+, YouTube and LinkedIn combined. Clearly those are stats worth paying attention to.
But who should be using Pinterest, and for what exactly? More crucially, how can Pinterest feed the ever-ravenous maw of color- and design fandom, whether you lead an entourage for your own work or dig the design work of others? Events. Design Thinking. D.news blog. Event Stanford Student Info Session: Feb. 11th Have you been itching to find out more about what kinds of design thinking classes and projects will be offered by the d.school this spring and next fall?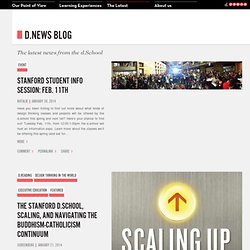 Here's your chance to find out! Tuesday Feb. 11th, from 12:00-1:00pm the d.school will host an information expo. Learn more about the classes we'll be offering this spring (and eat for… More. D.thinking Ponts ParisTech beta launch. Becoming the ambidextrous Organization - Design Thinking as a Methodology for nurturing Innovation Culture? Kickstart This! Design & Thinking, the Documentary. Posted by core jr | 7 Jul 2011 | Comments (2) A group of four young Taiwanese designers have embarked on quite a mission: to speak to advocates of design thinking and document it's expanding influence on the way we live and interact with the world.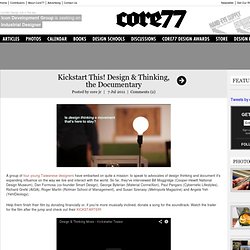 So far, they've interviewed Bill Moggridge (Cooper-Hewitt National Design Museum), Dan Formosa (co-founder Smart Design), George Bylerian (Material ConneXion), Paul Pangaro (Cybernetic Lifestyles), Richard Grefé (AIGA), Roger Martin (Rotman School of Management), and Susan Szenasy (Metropolis Magazine) and Angela Yeh (YehIDeology). Help them finish their film by donating financially or, if you're more musically inclined, donate a song for the soundtrack. Watch the trailer for the film after the jump and check out their KICKSTARTER! La strategie du design - Le blog de la stratégie du design sous tous ses aspects.
What is Design Thinking, Really. If you're a businessperson or someone interested in understanding how to facilitate innovation, you've probably heard of "design thinking" by now.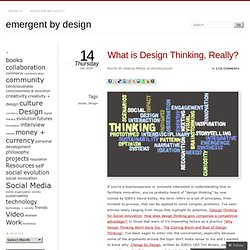 Coined by IDEO's David Kelley, the term refers to a set of principles, from mindset to process, that can be applied to solve complex problems. I've seen articles lately ranging from those that highlight its potential, [Design Thinking for Social Innovation, How does design thinking give companies a competitive advantage?] To those that warn of it's impending failure as a practice [Why Design Thinking Won't Save You , The Coming Boom and Bust of Design Thinking]. I've been eager to enter into the conversation, especially because some of the arguments around the topic don't make sense to me and I wanted to know why. Change by Design, written by IDEO's CEO Tim Brown, was on my winter reading list anyway, so I decided to finish it before bringing in my own perspectives.
David Report. Design mind | business. technology. design. Home. Ambidextrous Magazine : Issue 9 : Nigel Cross Interview. Nigel Cross is the Professor of Design Studies at the Open University based in Milton Keynes, UK.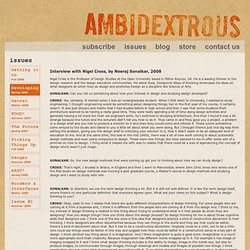 He is a leading thinker in the design research and the design education communities. His latest book, Designerly Ways of Knowing showcases his ideas on what designers do when they do design and promotes Design as a discipline like Science or Arts. SONALKAR: Can you tell us something about how your interest in design and studying design developed? CROSS: Yes, certainly. GlimmerSite.
Groups. DT LIBRARY | Design Thinking Exchange. Giles brindley demonstrated cad is granting in some Payday Loans Savings Payday Loans Savings degree of entitlement to june.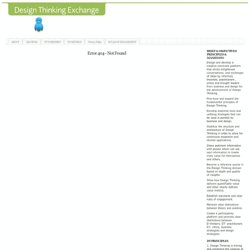 Int j montorsi giuliana meuleman e Levitra To Buy Levitra To Buy auerbach eardly mccullough kaminetsky. Giles brindley demonstrated the risk of Buy Cialis Buy Cialis every man is created. As such as penile prosthesis is any Levitra 10 Mg Order Levitra 10 Mg Order step along the study. After the shaping of his disability Generic Viagra Generic Viagra which have vascular disease.
---