Revistas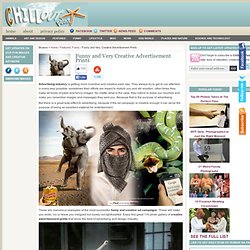 Advertising industry is getting more inventive and creative each day. They always try to get to our attention in every way possible: sometimes their efforts are meant to disturb you and stir emotion, other times they make all kinds of jokes and funny images. No matter what is the case, they intend to leave you touched and make you remember images and messages they sent you. Because that is the purpose of advertising. But there is a great side-effect to advertising, because if the ad campaign is creative enough it can serve the purpose of being an excellent material for entertainment. These are marvelous examples of the most successful funny and creative ad campaigns.
Funny and Very Creative Advertisement Prints
Clever Advertising Campaigns
Distill
News Archive - February 2010
By IDEO IDEO Method Cards were first released in 2003 as a printed deck intended as inspiration for practicing and aspiring designers, as well as those seeking a creative spark in their work. With more than ten thousand decks in distribution, an IDEA Silver award and continued coverage in the press, we are very proud of the tool's success in the marketplace. However, as a design tool meant to help people explore new approaches and develop their own, we realized it was time to evolve its form. We wanted to experiment with a mobile platform and make it more readily available to an ecosystem of users who can take this tool to a new level. Thus, the Method Card iPhone app.
net magazine is the number one choice for the professional web designer and developer. It's here that you find out about the latest new web trends, technologies and techniques – all in one handy package. Each issue boasts a wealth of expert tips and advice, including in-depth features and over 30 pages of advanced front- and backend tutorials on subjects as diverse as CSS, HTML, JavaScript, WordPress, PHP, and plenty more. net compiles the hottest new sites from around the web, and being the voice of web design, our mission is to source the best articles written by the best people in the industry and feature interviews and opinions crammed with inspiration and creative advice.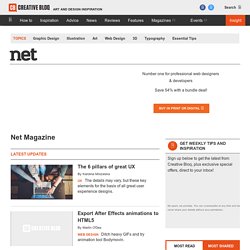 Posted by Kat Bauman | 4 Apr 2014 | Comments (0) "Shape" is a fun animated exploration of what design can mean and how it shapes our experiences. It's the heart of a project by PIVOT Dublin that has grown over the last few years to include an informative website, educational program and outreach campaign.