by
Get flash to fully experience Pearltrees
boris hoppek - just the plain accurate artwork, seriously!! - nude-21.jpg
Online Gallery
What everyone's posting right now
young gifted and black : Search results
Watch and share - I AM NOT AN ARTIST - AN ANIMATED GIF PARANOIA ABOUT NONSTOP DESIGN WORKERS
Todd James - 12ozProphet
This article was posted by Reas 2 years, 2 months, 3 weeks, 3 days, 13 hours, 17 minutes ago. "Times of Grace" A new book of my friend John Copelands work. large format hardcover book printed in the Netherlands with new paintings and drawings, along with some additional works from the last few years. available here This article was posted by Reas 2 years, 3 months, 1 week, 3 hours, 32 minutes ago.
GANG BANG BONG
1028
Artwork of Jason Limon
amysol.com
Home
Spumco (the creators of Ren & Stimpy) - Boo Boo Runs Wild - Channel: Maxtaro on LiveVideo
yanamoskaluk.com @ 66.6% (RGB/Preview)
Inspiring images and videos recently added to we heart it / visual bookmark
NIN3
Who Killed Bambi? Bloody Good Art - Contemporary Art Blog
FECAL FACE DOT COM
. -
Pitchfork Music Festival 2011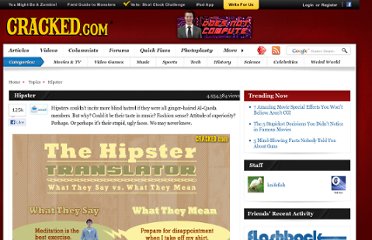 Hipster
Hipsters couldn't incite more blind hatred if they were all ginger-haired Al-Qaeda members. But why? Could it be their taste in music? Fashion sense?
San Francisco International Film Festival
San Francisco International Film Festival (abbreviated as SFIFF) is the oldest continuously running film festival in the Americas. Organized by the San Francisco Film Society , the International is held each spring for two weeks, presenting around 200 films from over 50 countries annually. The Festival highlights current trends in international film and video production with an emphasis on work that has not yet secured U.S. distribution. Since its inception, the International has grown to serve over 70,000 patrons, with screenings held in San Francisco and Berkeley. [ 1 ]