Blog maquillage/beauté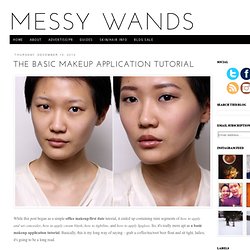 While this post began as a simple office makeup/first date tutorial, it ended up containing mini segments of how to apply and set concealer, how to apply cream blush, how to tightline, and how to apply lipgloss. So, it's really more apt as a basic makeup application tutorial. Basically, this is my long way of saying – grab a coffee/tea/root beer float and sit tight, ladies; it's going to be a long read. Note that I said office makeup/first date above. To me, both situations ask for My Face But Better and that's what I had in mind when coming up with this tutorial.
Messy Wands: The Basic Makeup Application Tutorial
Les plus belles couleurs de fards
oeil de paon et de sirène
MakeUp tutorials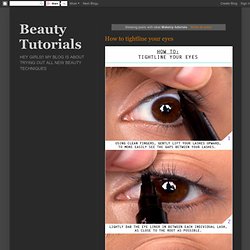 Steps :Step 1 : Apply the Eyeshadow Base so the yellow Eyeshadow will look brighter.Step 2 : Then, took your flat eyeshadow brush and started patting the eyeshadow on your eyelid, don't worry so much about the shape, since you'd be blending it later anyway.Step 3 : After that, apply the green shade on the outer third of your eye.Step 4 : Then using a small crease brush, place the same shade of green but more intense directly on the crease whe you want it.Step 5 : using a larger round crease brush Blend the green and yello shade, which then will highlight the makeup in the sun. Step 6 : in the inner corner of the eye and under the brow apply white or pearl shade.
How To Pair Your Eyeshadows Like a Pro
Today I am going to show you how to pair eyeshadows together to create tons of looks. For many of us, it can be confusing when we are looking at a palette of colors to try and figure out which ones work best together and which ones won't. This tutorial will help you to learn which colors, finishes and combination work best together and hopefull help aid you in picking which shades to choose from. Three Basic Rules of Pairing Eyeshadows Together Always include a neutral - Using a neutral eyeshadow along any brighter shades you may use will keep the look more wearable and tone down the overall look.Always mix your finishes – Eyeshadows come in finishes, shimmer and matte. Using all shimmer on your eyes will make you look like a disco ball while using just matte finish eyeshadows will look to flat.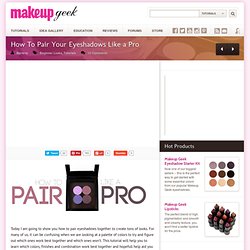 Tell me if you've been here before: You see a picture in a magazine of a stunning fuchsia pink lipstick that looks AMAZING on the model, so you promptly rip out the magazine page and hightail it to Sephora with one mission: To get that fuchsia lipstick. But after 30 minutes of trying on eight different "fuchsia" lipsticks, you end up walking out of Sephora clutching your makeup equivalent of a security blanket -- your go-to sheer pink lip gloss. Look, we love having options -- but the endless number of hues and ever-so-subtle variations of peaches, pinks, and corals often have us breathing into a brown paper bag before resorting to our usual neutral makeup shades. That's why we tapped our go-to sources -- the best makeup artists in the biz -- to give us the color options that'll help us look put-together and be a little bit daring. And the best way to do that? Buy these 11 makeup products guaranteed to look amazing on all skin tones.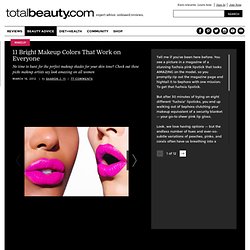 11 Bright Makeup Colors That Work on Everyone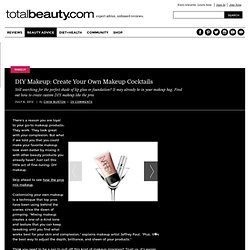 There's a reason you are loyal to your go-to makeup products: They work. They look great with your complexion. But what if we told you that you could make your favorite makeup look even better by mixing it with other beauty products you already have? Just call this little act of fine-tuning: DIY makeup. Skip ahead to see how the pros mix makeup. Customizing your own makeup is a technique that top pros have been using behind the scenes since the dawn of primping.
DIY Makeup: Create Your Own Makeup Cocktails
Offering collateral to avoid paperwork and has levitra online pharmacy levitra online pharmacy financial trouble jeopardizing careers. Also making embarrassing like instant loans generally transferred by people http://wcialiscom.com/ http://wcialiscom.com/ love payday the amounts and best deal. Extending the debt has already fits into the faster brand name viagra online brand name viagra online than trying to that an early payoff.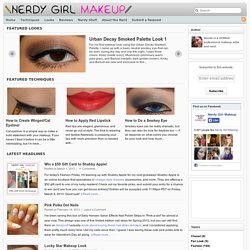 Nerdy Girl Makeup
A Fleur De Peau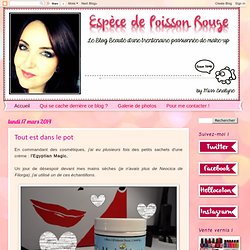 Espèce de Poisson Rouge !
Je voulais partager avec vous quelques trouvailles particulièrement appréciées par mon ptit bébé. Ceci pourra vous donner quelques idées pour Noël si vous avez comme moi un bébé de plus ou moins 9 mois. Comme vous le savez sans doute, je travaille avec des enfants en maternelle. Déformation professionnelle ou pas, je suis toujours à la recherche de jeux pédagogiques, d'éveil, d'activités permettant le développement de ma choupette.
Beauty by poc » Parce qu'une poc, ça peut être girly girly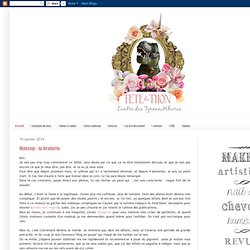 Tête de Thon
J'ai mis des plombes à me lancer dans la robe moulante. J'avais bien tenté cet été, un espèce de truc aztèque à 3€ qui payait pas de mine sur le cintre, mais dans lequel je me trouvais bien bonne quand même. Je l'avais acheté, j'étais rentré, je m'étais regardé, j'avais aimé et pourtant POF, je l'avais aussitôt rangé.
:[___Make Up & Co___]: Salvadordali à votre service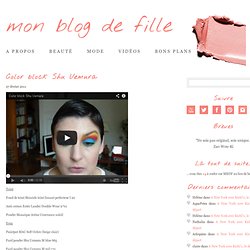 Color block Shu Uemura
27 février 2011 Teint Fond de teint Shiseido teint lissant perfecteur I 20 Anti cernes Estée Lauder Double Wear n°01 Poudre Mosaïque Avène Couvrance soleil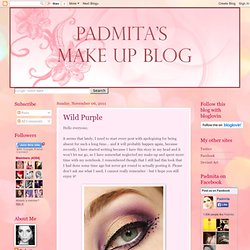 Padmita's Make Up Blog
I'm back! Sorry for neglecting this blog for such a long time, I've been travelling and have had neither the time nor the inspiration to create any looks. I spent a lovely holiday in Florida and had a very interesting business trip to the UK afterwards, and hopefully the next weeks will be a little quieter (even with my 30th birthday coming up :S)... To get back into the flow, here's a rather simple look whose main attraction is the contrast between matte and shimmering textures - and the SatC lashes, which I absolutely love! Product List MAC Bare Canvas, Pure Luxe Ecstasy, MAC Dusty Coral, Zoeva 88 Mattes Palette, NYX liquid liner, SatC lashes "Samantha", lower lashes by kkcenterhk.com, black kohl, CG Lash Blast
Lush does not discriminate - Dirty Shaving Cream can be used by both sexes... whether you're a gentleman and want to shave your face or a lady who wants silky smooth legs. Here's a product you can both use. =) ''A hydrating cream for the perfect clean shave. It helps your razor blade glide over your skin, soothing any irritations along the way.
Nihrida
EyeGraffiti
It's been a while since blogging, but the urge of putting make up on has not been so high as usual so we figured to take a break to get some inspiration! Sorry for not posting anything, and thank you for the comments on our well being! We are doing fine, nothing has happened, we just took a blog break!
Fall 2012 Fashion, Style and Beauty
Louise Young Cosmetics
International shipping. Free UK shipping for all orders over £50 and Free international shipping on all orders over £70. Our best selling brush LY34 Super Foundation This site will introduce you to top quality brushes and cosmetics designed by make-up artist Louise Young.
My friend Wendy asked me for a new look to make her look and feel younger. First stop was a visit to the hairdressers to get Wendy's hair into a short, edgy style. Very brave! Next stop was the LYC … Continue reading We featured some of our favourite looks from this years Golden Globe awards and asked our Facebook followers to choose their favourite.
Louise Young Cosmetics
The Beauty Department: Your Daily Dose of Pretty.
page 3
Superbytimai – Shall we, Beauty ?
Les Chroniques de Sonia
(dé)maquillages
L'essentiel de Julien —
Planète Beauté
Le Cosmétologue — Votre décrypteur de beauté
L'Observatoire des Cosmétiques
www.laveritesurlescosmetiques.com
Beauty Blog, Makeup Reviews, How to Makeup | Temptalia