Blog maquillage/beauté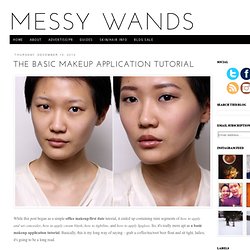 While this post began as a simple office makeup/first date tutorial, it ended up containing mini segments of how to apply and set concealer, how to apply cream blush, how to tightline, and how to apply lipgloss. So, it's really more apt as a basic makeup application tutorial. Basically, this is my long way of saying – grab a coffee/tea/root beer float and sit tight, ladies; it's going to be a long read. Note that I said office makeup/first date above. To me, both situations ask for My Face But Better and that's what I had in mind when coming up with this tutorial.
Messy Wands: The Basic Makeup Application Tutorial
Les plus belles couleurs de fards
oeil de paon et de sirène
MakeUp tutorials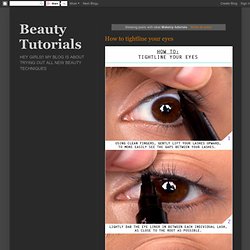 Tightlining your eyes (also known as the "invisible eye liner") is a great way to add a subtle definition to your eyes. Instead of lining the skin above your lashes, you line between the lash line. This method is perfect for any casual or fancy occasion, and is super easy to master. Keep reading to learn how to tightline your eyes! Using clean fingers, gently lift your lashes upward (this step is only necessary if you find it easier to tightline).
How To Pair Your Eyeshadows Like a Pro
Today I am going to show you how to pair eyeshadows together to create tons of looks. For many of us, it can be confusing when we are looking at a palette of colors to try and figure out which ones work best together and which ones won't. This tutorial will help you to learn which colors, finishes and combination work best together and hopefull help aid you in picking which shades to choose from. Three Basic Rules of Pairing Eyeshadows Together Always include a neutral - Using a neutral eyeshadow along any brighter shades you may use will keep the look more wearable and tone down the overall look.Always mix your finishes – Eyeshadows come in finishes, shimmer and matte. Using all shimmer on your eyes will make you look like a disco ball while using just matte finish eyeshadows will look to flat.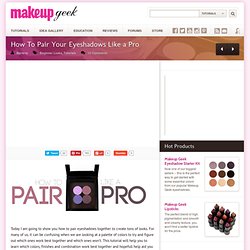 Tell me if you've been here before: You see a picture in a magazine of a stunning fuchsia pink lipstick that looks AMAZING on the model, so you promptly rip out the magazine page and hightail it to Sephora with one mission: To get that fuchsia lipstick. But after 30 minutes of trying on eight different "fuchsia" lipsticks, you end up walking out of Sephora clutching your makeup equivalent of a security blanket -- your go-to sheer pink lip gloss.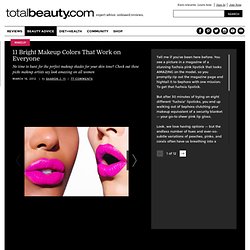 11 Bright Makeup Colors That Work on Everyone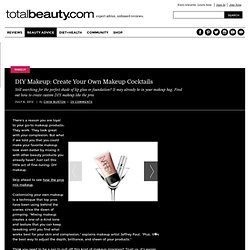 There's a reason you are loyal to your go-to makeup products: They work. They look great with your complexion. But what if we told you that you could make your favorite makeup look even better by mixing it with other beauty products you already have? Just call this little act of fine-tuning: DIY makeup. Skip ahead to see how the pros mix makeup. Customizing your own makeup is a technique that top pros have been using behind the scenes since the dawn of primping.
DIY Makeup: Create Your Own Makeup Cocktails
Nerdy Girl Makeup
A Fleur De Peau
Espèce de Poisson Rouge !
Beauty by poc » Parce qu'une poc, ça peut être girly girly
Tête de Thon
:[___Make Up & Co___]: Salvadordali à votre service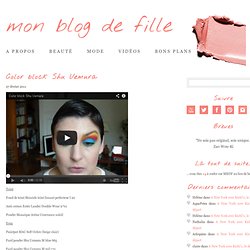 Color block Shu Uemura
27 février 2011
Padmita's Make Up Blog
Nihrida
EyeGraffiti
Fall 2012 Fashion, Style and Beauty
Louise Young Cosmetics
De très beaux pinceaux de maquillage, manche en bois issu de forets gérées, créés par une MPA anglaise. by vegalajoueuse Feb 7
Louise Young Cosmetics
The Beauty Department: Your Daily Dose of Pretty.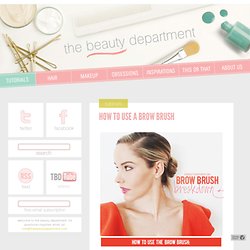 page 3
If there's one thing I always tell my clients to begin the battle against aging is some sort of daily peel to generate cell turnover.
Superbytimai – Shall we, Beauty ?
Les Chroniques de Sonia
(dé)maquillages
L'essentiel de Julien —
Planète Beauté
Le Cosmétologue — Votre décrypteur de beauté
L'Observatoire des Cosmétiques
www.laveritesurlescosmetiques.com
La recherche INCI Cette banque de données vous permet de vous informer sur un composant cosmétique particulier ou de déterminer le profil complet d'un produit.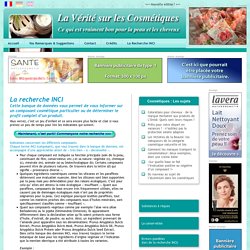 Beauty Blog, Makeup Reviews, How to Makeup | Temptalia