Gamification
Schell
The gamification of surveys « Curiously Persistent. How can gaming principles be used in research?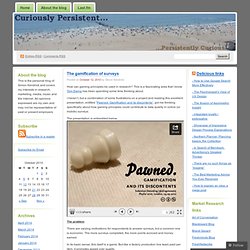 This is a fascinating area that I know Tom Ewing has been spending some time thinking about. I haven't, but a combination of some frustrations on a project and reading this excellent presentation, entitled "Pawned. Gamification Summit 2011 - storify.com. Engagement through Gamification. Fun is the Future: Mastering Gamification. Ecker2010persuasive - Publication Details - Media Informatics. Gamification Workshop 2010. Sixty-two Reasons Why "Gamification" Is Played Out | Co.Design. "Game mechanics" are the new digital hotness these days.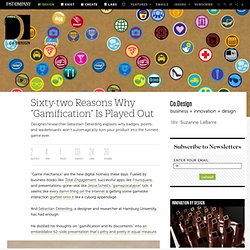 Fueled by business books like Total Engagement, successful apps like Foursquare, and presentations-gone-viral like Jesse Schell's "gamepocalypse" talk, it seems like every damn thing on the Internet is getting some gamelike interaction grafted onto it like a cyborg appendage. And Sebastian Deterding, a designer and researcher at Hamburg University, has had enough.
He distilled his thoughts on "gamification and its discontents" into an embeddable 62-slide presentation that's pithy and pretty in equal measure. Deterling attacks the gamification trend from a variety of angles, but his argument boils down to this: points, badges, and leaderboards do not a true game make. What they do make is distraction, confusion, and obsession with "fake achievement. " User: flashcard12. Pawned. Gamification and Its Discontents. Home | BigDoor Media.
---