7 Billion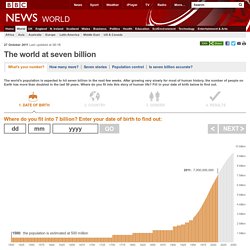 Sources: All population data are based on estimates by the UN Population Division and all calculations provided by the UN Population Fund . The remaining data are from other sections of the UN, the Global Footprint Network and the International Telecommunications Union . Want to find out more? Visit the UN Population Fund's detailed population calculator, 7 billion and me.
RDA: "World at 7 Billion" Spot for UN Population Fund
7 Billion People: Everybody Relax!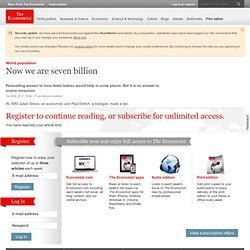 World population: Now we are seven billion
IN 1980 Julian Simon, an economist, and Paul Ehrlich, a biologist, made a bet. Mr Ehrlich, author of a bestselling book, called "The Population Bomb", picked five metals—copper, chromium, nickel, tin and tungsten—and said their prices would rise in real terms over the following ten years. Mr Simon bet that prices would fall.
Population of world 'could grow to 15bn by 2100' | World news | The Observer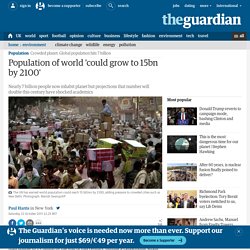 The UN has warned world population could reach 15 billion by 2100, adding pressure to crowded cities such as New Delhi. Photograph: Manish Swarup/AP The United Nations will warn this week that the world's population could more than double to 15 billion by the end of this century, putting a catastrophic strain on the planet's resources unless urgent action is taken to curb growth rates, the Observer can reveal. That figure is likely to shock many experts as it is far higher than many current estimates.
Child six billion hopes for peace as population races on to next milestone | Environment
In a modest flat in Visoko, near Sarajevo in Bosnia-Herzegovina , 12-year-old Adnan Nevic is playing with a globe. "America, Australia, Asia," he says, pointing out the places he would like to visit on the slightly deflated blow-up toy. His favourite subject at school is geography and he wants to be a pilot when he grows up, the better to fulfil his dreams of global travel. That Adnan has such an international outlook is hardly surprising: at only two days old, he was held aloft in a Sarajevo hospital by the then United Nations secretary general, Kofi Annan, to be snapped by the world's news photographers. Of all the 80 million babies born that year, Adnan was chosen as the world's six billionth living person .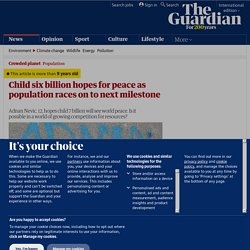 How big was the world's population when you were born? | Environment
Crowded planet: Global population hits 7 billion | Environment