Decoración
All-Occasion Chalkboard Banner. I admit it.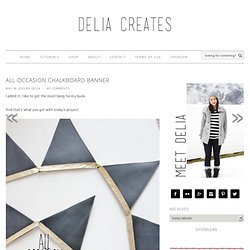 I like to get the most bang for my buck. And that's what you get with today's project. 38 Anthropologie Hacks. Spool Bookcase | Dan Likes This! Tweet I love all things upcycling (<– click there for some examples) especially wooden pallets.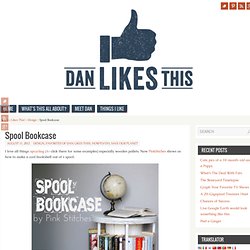 Now PinkStiches shows us how to make a cool bookshelf out of s spool: I'm pretty sure most of my spending money goes towards books and fabric. I have more books than I know what to do with and probably ten more books on the way from Barnes & Noble as I'm typing out this post. Quick Install of Concrete Countertops! Kitchen Remodel! - Remodelaholic. Painted glass tabletop. I try to get my hands on every material I can think of, and sadly, that means I can never make a quick trip to the hardware store.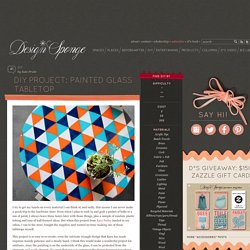 Even when I plan to rush in and grab a packet of bolts or a can of paint, I always leave three hours later with those things, plus a sample of random plastic tubing and tons of half-formed ideas. But when this project from Kara Paslay landed in my inbox, I ran to the store, bought the supplies, and wasted no time making one of these tabletops myself. This project is so easy to re-create; even the intricate triangle design that Kara has made requires mainly patience and a steady hand.
Crafty decorating: painted cork-tile pinboard « the happy home. Lemontreecreations.blogspot.com/2011/05/doormat-wall-art.html. I made these awesome wall hangings last year and they are one of the few decorations in my house that I have never gotten sick of or moved around.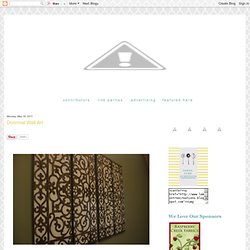 I saw the idea in Lowes Creative Solutions and obsessed over it until I could make them for myself. I shared them on my family blog at the time, but I've received so many compliments on them recently that I thought I'd share them here as well. Letter Art « 346 Living. 6 Jun Hi All!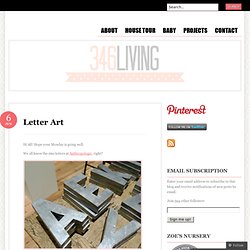 Hope your Monday is going well. We all know the zinc letters at Anthropologie, right? Well they're totally cute but at $18 a pop, that just won't do. DIY Tuesday: Rustic Pencil Holder. I don't know about you, but I've seen a lot of rustic accessories and tableware popping up all over design blogs lately.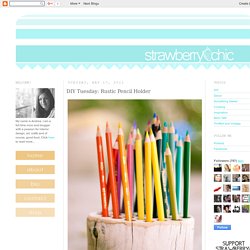 The wood cake stand is one of my favorites, and I'm hoping to be able to make one soon so I can share the DIY with you! I love the idea of bringing the outdoors in through rustic or organic design elements. Which is why I was thrilled when my husband made me this wooden pencil holder. The piece of wood is one that his friend found by a river bank. The Easiest Pillow Cover Ever. This is the easiest pillow cover ever.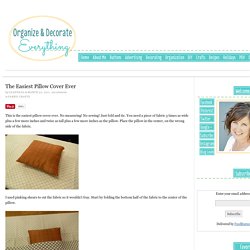 No measuring! No sewing! Just fold and tie. You need a piece of fabric 3 times as wide plus a few more inches and twice as tall plus a few more inches as the pillow. 34 DIY headboard ideas. The headboard is now looked at as a mainly decorative element in our bedrooms.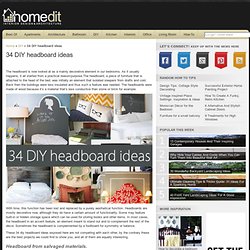 As it usually happens, it all started from a practical reason/purpose.The headboard, a piece of furniture that is attached to the head of the bed, was initially an element that isolated sleepers from drafts and cold. Back then the buildings were less insulated and thus such a feature was needed. The headboards were made of wood because it's a material that's less conductive than stone or brick for example. With time, this function has been lost and replaced by a purely aesthetical function. An Old Guitar as Shelving recyclart. 101 Handmade Christmas Ornaments. Get ready for the holidays with handmade ornaments!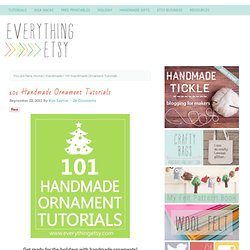 There's something about handmade ornaments that really make me smile. I made ornaments every year with my mom as a child and creating this list reminded me of some of those classic ornaments. She still has some of them to hang on her tree! Have you ever made a quilted ornament without sewing? Those were some of my favorites! DIY $5 Flower Vase! | So, I finally just changed all the burnt out light bulbs in my house.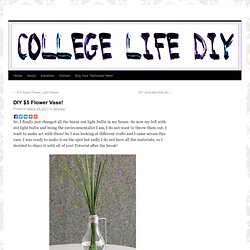 So now my left with old light bulbs and being the environmentalist I am, I do not want to throw them out. I want to make art with them! So I was looking at different crafts and I came across this vase. I was ready to make it on the spot but sadly I do not have all the materials, so I decided to share it with all of you! Song Lyric Wall Art / D.I.Y. Project. A couple weeks ago, I found a paint-by-number at an unbeatable price. I can't pass these things up even though I already owned this particular design. I thought that I could maybe use it to make a fun D.I.Y., but my new rule is that all thrifts that I purchase with the intent of restyling need to get done right away. I have way too many half finished projects in my life. With that little bit of motivation I came up with a fun D.I.Y. to display some of my favorite song lyrcis in our newlywed home.
Crafts / Fun! (Vases, rubber bands, and spray paint). Landee See, Landee Do: Thumbtack Vase Fillers. Iron on Wall Art. I have been meaning FOREVER to do something about the wall above my little guys crib. It looks like this: (SORRY--bad camera phone picture)
---