Confección
Diy: oilcloth lunch bag for back-to-school | Fresh Home Blog. Unfortunately we had to shutdown our sister site, Fresh Home Ideas.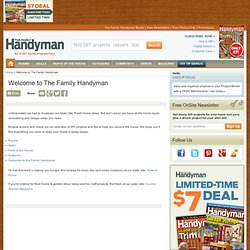 But don't worry; we have all the home repair, remodeling and design ideas you need. Browse around and check out our selection of DIY projects and tips to help you around the house. We hope you'll find everything you need to keep your home in tiptop shape. Or if all that work's making you hungry, find recipes for every day (and every occasion) at our sister site, Taste of Home. 29 Homemade Halloween Costumes (for adults) | As an etsy seller, I personally don't think it's unethical to list an item in any blog post (even a DIY one,) as long as the link takes you back to the item listing, and/or the creator is given credit.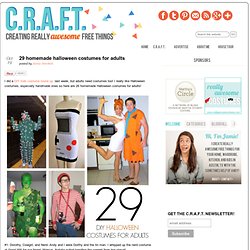 This one just happens to have been deactivated, maybe because the seller did it, or it's possible etsy did. Either way, even if the item was copyrighted, someone crafty could make something similar for personal use (but, from what I've seen, not of the same quality unless they're experienced with printing on fabrics!) Most sellers are up on their SEO and google stats, and it appears this one's sales haven't been hurt by their item being posted all over the web.
Anywho, I have loved that jellyfish costume idea for a while now! I have to give it to Martha, she and her team get pretty freaky for Halloween. * Dolls And Daydreams - Doll And Softie PDF Sewing Patterns: Fabric Label Tutorial: Made from Things in Your Pantry! This tutorial is not only for fabric labels but for printing on fabric for any project from your home printer and all from things that you probably already have in your pantry!!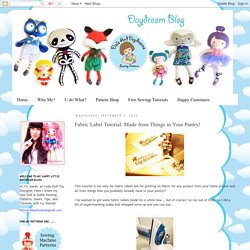 I've wanted to get some fabric labels made for a while now … but of course I've run out of time. So I did a bit of experimenting today and whipped some up and you can too. What you'll need: Shwinandshwinarchive. 1-Minute-DIY: Van shawl naar gedrapeerd rokje.
Moldes
Corbatas. For home. Accesorios. Bags/shoes. Reutlizados/modif. Puntadas y trucos. Clothes. The world's best sewing tutorials in no particular order. Alina's Adventures sew everything A P indicates a printable tutorial or pdf pattern.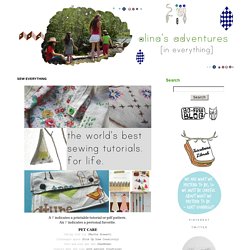 An F indicates a personal favorite. PET CARECatnip fish toy (Martha Stewart)Clothespin apron (Pick Up Some Creativity)Cool and cozy pet bed (Sew4Home)Country gent dog coat with pattern (Craftzine)Collapsible travel dish (Craft Stylish)Color spectrum pet bed (Design Sponge)Custom-fit doggy coat (Pretty Little Things)Dog leash (The Purl Bee)Embellished doggy sweater (Miss Lovie)Fabric dog coat pattern (Cut Out & Keep) PFabric pet bed (Inspiration & Realization)Fabric pup tent (CasaSugar)Family connection writing center (Craftzine)Fleece dog bed (Dog Under My Bed)Pet pouches (The B Line)Sweater dog toys (Craft Stylish)Squeaky doggie bone (Laura Griffin)Water resistant doggy coats (Martha Stewart)
T-Shirt Mini Dress with Downloadable Pattern! Guess what I did?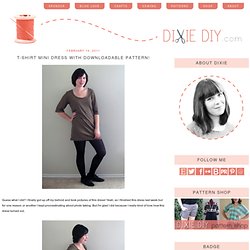 I finally got up off my behind and took pictures of this dress! Yeah, so I finished this dress last week but for one reason or another I kept procrastinating about photo taking. But I'm glad I did because I really kind of love how this dress turned out.
---