**ART**
Justin Reed Art - Home
Tink-It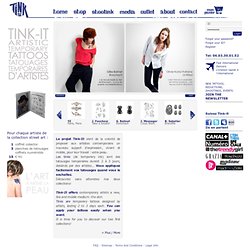 Le projet Tink-It vient de la volonté de proposer aux artistes contemporains un nouveau support d'expression, vivant et mobile, pour leur travail : votre peau.Les tinks (de temporary ink) sont des tatouages temporaires durant 2 à 3 jours, dessinés par des artistes... Vous appliquez facilement vos tatouages quand vous le souhaitez.Découvrez sans attendres nos deux collections! Tink-It offers contemporary artists a new, live and mobile medium: the skin.Tinks are temporary tattoos designed by artists, lasting 2 to 3 days each. You can apply your tattoos easily when you want.It is time for you to discover our two first collections!
MILKBBI ART BY JUSTIN WALLIS
CYRIL HATT
Untitled Document
Main : William Hundley © 2010
Sacred Mtn.
Photograph for The New Republic magazine.Art Direction, Editorial Design, Photography2014 Editorial photo for Men's health magazine.Art Direction, Fine Arts, Photography2014 Some of my favorite iphone photos of 2013Art Direction, Fine Arts, Photography2014 Some of the minimal, 6-second vines I made with my iphone this year.Animation, Directing, Film2013 Personal art made just for fun.Crafts, Culinary Arts, Sculpting2013 Illustration for Kiplinger's MagazineArt Direction, Editorial Design, Illustration2013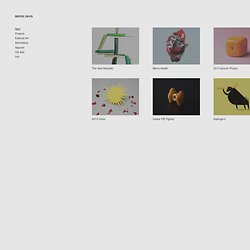 moresoon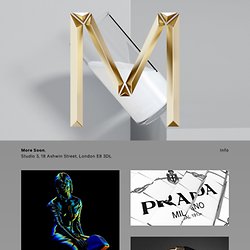 Based in London, More Soon is a design studio that produces films and images for a range of international clients in the fields of art, music, fashion and advertising. Our work combines an exacting focus on creating beautiful images with an irreverent and off-beat approach, earning commissions from Prada, Nike, Adidas, Mercedes, Kenzo and Pharrell Williams, among others. Founded in 2009, More Soon is led by Creative Director, Carl Burgess.With more than ten years of experience, including an award-winning period of work as an Art Director with Hi-Res!, Carl has become a well-known figure in the design community. He currently gives lectures and runs workshops for educational and cultural institutions and conferences including Bauhaus, OFFF and It's Nice That. More Soon believes in forging long-term relationships, undertaking both large and small projects to deliver smart, efficient and innovative solutions to design and communication problems.
Christian Faur
Kemistry Gallery
About : Burak Kaynak
Burak Kaynak – Multi-disciplinary designer, artist and entrepreneur. + Born in Istanbul, lives in Montreal, QC. + Founder @ PLAYWHO + Blogger @ JOQUZ + Notebook Lover @ ARWEY + Director @ PUKKA/DANK Focus: Design, Art Direction, Creative Direction, Web Development, Web Design, Branding, Print Design, Product Design, Sound Design, Interaction Design, Visual Arts, User Experience Design, Advertising, Marketing, Blogging. Quote: "If I'm not surprising myself, no wonder I'm boring you!"