Coletivo
Best Presentation Software | Online Presentation Tools | SlideRocket
The third Global Service Jam - the sixth Jam we have enjoyed with you all - broke all the records. All of them. At the end of the day, almost 3000 people in over 120 cities had Jammed for a total of 84000 person-hours (that's about 50 person-years) and produced over 500 projects, uploaded here ...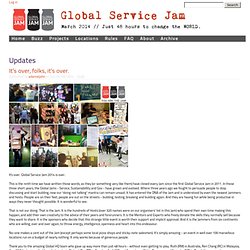 Updates | Global Service Jam
GoSoapBox: Hear What Your Students are Thinking | Classroom Response System
Comemoração de estar em paz
This list is divided into proprietary or free software, and open source software, with several comparison tables among different product and vendors characteristics. It also includes a section of "projectware" or project collaboration software, which are combining with cloud computing services to become a standard feature in an emerging category of computer software: collaboration platforms . There may be some overlap between this list and the list of wiki software .