Coletivo
Cacoo - Create diagrams online Real time collaboration. Web Tools for Teachers by Type. Simple Online Collaboration: Online File Storage, FTP Replacement, Team Workspaces. Best Presentation Software | Online Presentation Tools | SlideRocket. Airtime. Project Management Software, CRM, Sales, Intranet - thousands of apps - Podio. Updates | Global Service Jam. It's over.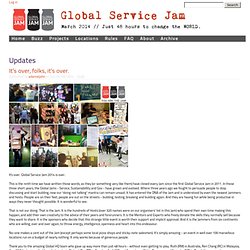 Global Service Jam 2014 is over. This is the ninth time we have written those words, as they (or something very like them) have closed every Jam since the first Global Service Jam in 2011. Es 2.0 Free web based Project Management software. Organize Anything, Together. Best Online Collaboration Tools 2012 - Robin Good...
GoSoapBox: Hear What Your Students are Thinking | Classroom Response System. Wallwisher.com :: Words that stick. Online Stickies - lino. Comemoração de estar em paz. Edistorm. List of collaborative software.
---