Videos
One of the BEST Motivational Videos I've ever seen! Forever Alone. World's Largest Rope Swing. María Corina Machado Vs Chavez ( Venezuela) 2012 The End - StumbleUpon. My Secrets Video. Autistic Girl Expresses Unimaginable Intelligence. 15 Amazing Animated Short films.
We all love short animated films, but creating short film is very hard task.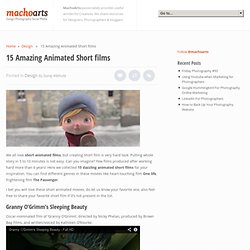 Putting whole story in 5 to 10 minutes is not easy. Can you imagine? Sarah Moon is a master of Photography.
---