Analyse de l'info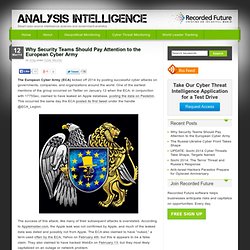 Anti-Israel hacker organization Parastoo last week announced its intention to join #OpIsrael2, also touted as OpIsrael Birthday, to commence in April. The group is targeting US, NATO, and ISAF engineering, military communications and technology resources. This was Parastoo's second public statement during January after several months of silence.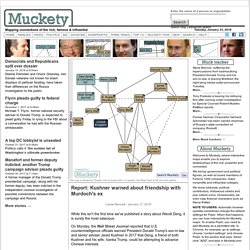 A reputed captain in the Bonanno crime family has been indicted in a multi-million-dollar robbery that occurred 36 years ago. More... Former Virginia Gov. Bob McDonnell and his wife have been indicted on corruption charges, the Associated Press reports. More... Stephen Moore, founder of the Club for Growth and a member of the Wall Street Journal editorial board, is returning to the Heritage Foundation, the conservative think tank announced.
Cryptome welcomes documents for publication that are prohibited by governments worldwide, in particular material on freedom of expression, privacy, cryptology, dual-use technologies, national security, intelligence, and secret governance -- open, secret and classified documents -- but not limited to those. Documents are removed from this site only by order served directly by a US court having jurisdiction. No court order has ever been served; any order served will be published here -- or elsewhere if gagged by order.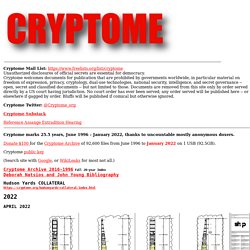 Voici un siècle, les progressistes en savaient souvent plus que les patrons sur le capitalisme même — et beaucoup plus sur le socialisme (…) Horrifiés, égarés ou paresseux, les progressistes ont perdu leur avance puis accumulé le retard. L'état du monde dit assez ce que cela représente de menaces pour l'espèce humaine. Le krach de Wall Street en octobre 1929, l'énorme crise bancaire de 1933 et la période prolongée de crise économique aux États-Unis et en Europe des années 1930 ont amené le président Franklin Roosevelt, et par la suite les gouvernements européens, à fortement réglementer le secteur financier afin d'éviter la répétition de graves crises boursières et bancaires. Ariel Sharon a toujours méprisé les Palestiniens. Il disait qu'Israël avait son Bin Laden en la personne de Yasser Arafat.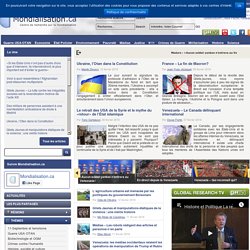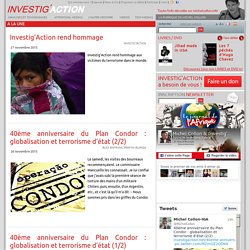 8 janvier 2014 SIGNEZ LA PÉTITION POUR BAHAR KIMYONGÜR www.freebahar.com 3 janvier 2014 Après 13 jours de prison suite à un mandat d'arrêt international lancé contre lui, Bahar Kimyongür, citoyen belge, est actuellement assigné à résidence à Massa, en Italie. Militant pour la paix, arrêté à nouveau le 21 novembre, il semble être la tête de Turc du régime Erdogan. Celui-ci veut le condamner à 22 ans de prison pour avoir manifesté dans le Parlement européen contre la torture pratiquée dans les prisons turques.
Une Task Force Intelligence Economique pour développer la compétitivité de l'EtatPourquoi l'Intelligence Economique, grâce à laquelle nombre de professionnels parviennent avec succès à accroître les avantages compétitifs d'entreprises et d'organisations, n'a-t-elle pas su, au niveau des Etats, mieux les protéger des faillites et des crises majeures qu'ils rencontrent aujourd'hui ? Pourquoi n'a-t-elle pas joué son rôle d'anticipation des risques ? Pourquoi a-t-elle failli à sa raison d'être qui est de renforcer la compétitivité ?. La réussite ou l'échec de la mise en place de cette démarche dépend essentiellement du facteur humain. (...)
Veille.com : la communauté de l'Intelligence Economique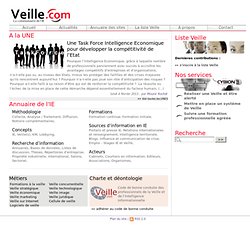 In Wikileaks Archives U.K. (2009) Publication of the UK Royal Mail's PostZon postcode database WikiLeaks released the UK government database of all 1,841,177 UK post codes together with latitude and longitude, grid references, county, district, ward, NHS codes and regions, Ordinance Survey reference, and date of introduction. The database was last updated on July 8, 2009 and is over 100,000 pages in size. Read this in Wikileaks Archives Afghanistan (2008) Release of report NATO in Afghanistan: Master Narrative