CSS
Here at CSSPortal, we have gathered as much information as possible to try and help you learn CSS and improve your web design skills. At this site, you'll find a range of quality resources all geared towards CSS, if you're looking for a new design for your website, then please check out our range of CSS Templates or if you would like to design your own site, you may wish to check out some software to help, go to CSS Software for some great programs. Also at CSSPortal, you'll find all the CSS Properties, CSS Books and a nice collection of CSS examples.. CSSPortal also encourages you to choose good web hosting for your site.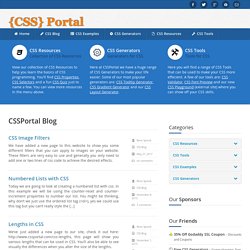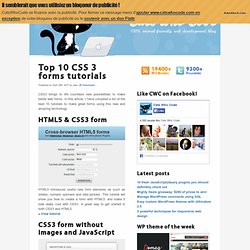 HTML5 & CSS3 form HTML5 introduced useful new form elements as such as sliders, numeric spinners and date pickers. This tutorial will show you how to create a form with HTML5, and make it look really cool with CSS3. A great way to get started in both CSS3 and HTML5.» View tutorial
Skin your Chrome Inspector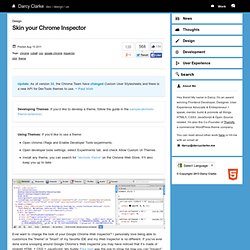 Update: As of version 33, the Chrome Team have changed Custom User Stylesheets and there is a new API for DevTools themes to use. ~ Paul Irish Developing Themes: If you'd like to develop a theme, follow the guide in the sample-devtools-theme-extension. Using Themes: If you'd like to use a theme:Open chrome://flags and Enable Developer Tools experiments. Open developer tools settings, select Experiments tab, and check Allow Custom UI Themes.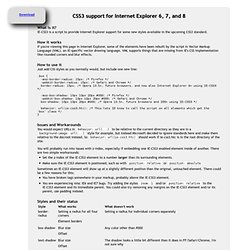 CSS3 support in Internet Explorer 6, 7, and 8
What is it? IE-CSS3 is a script to provide Internet Explorer support for some new styles available in the upcoming CSS3 standard. How it works
css/ 문서 목록
Dynamic Drive CSS Layouts- CSS Frames
CSS Frames Layouts New (Dec 26th, 06'): The following are a collection of CSS Frames layouts, where select columns or rows inside the layout remain static even when the page is scrolled, mimicking a frames like behavior. Page 1 of 2 pages 1 2 > This is a two columns liquid layout with the left column being static, always in view. This is a two columns liquid layout with the right column being static, always in view. This is a two rows liquid layout with the top row being static, always in view.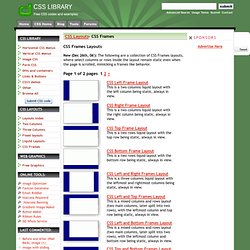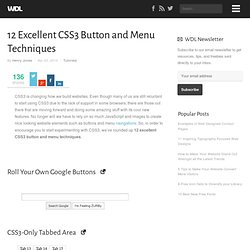 1139 shares 20 Fresh CSS3 Tutorials The design industry is probably one of the fastest changing and growing. Designers have to keep their eyes on everything, including new trends in visual design, as well as interaction technologies like jQuery, HTML5, and CSS3. Designers are using these technologies to express more creativity in design production and make user experience richer.
background: #1e5799; /* Old browsers */ background: -moz-linear-gradient(top, #1e5799 0%, #2989d8 50%, #207cca 51%, #7db9e8 100%); /* FF3.6+ */ background: -webkit-gradient(linear, left top, left bottom, color-stop(0%,#1e5799), color-stop(50%,#2989d8), color-stop(51%,#207cca), color-stop(100%,#7db9e8)); /* Chrome,Safari4+ */ background: -webkit-linear-gradient(top, #1e5799 0%,#2989d8 50%,#207cca 51%,#7db9e8 100%); /* Chrome10+,Safari5.1+ */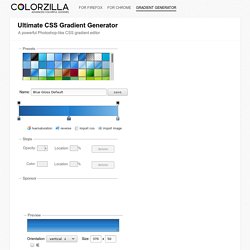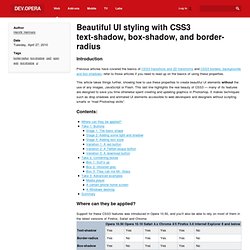 By Henrik Helmers Introduction Previous articles have covered the basics of CSS3 transitions and 2D transforms and CSS3 borders, backgrounds and box-shadows; refer to those articles if you need to read up on the basics of using these properties. This article takes things further, showing how to use these properties to create beautiful UI elements without the use of any images, JavaScript or Flash. This last line highlights the real beauty of CSS3 — many of its features are designed to save you time otherwise spent creating and updating graphics in Photoshop.
CSSCodeOptimizer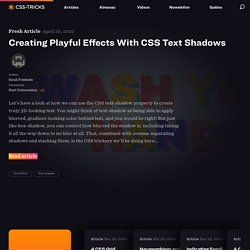 Stripes in CSS Stripes are pretty easy to do in CSS these days. CSS gradients via the background-image property really got our back. I thought I'd document some varitions in one easy to reference place.