Planète
Get flash to fully experience Pearltrees
Planete ( still in progress )
Source: alertnet // Johann Earle A woman walks on the beach in Georgetown, Guyana in the early morning of November 26, 2010. REUTERS/Jorge Silva By Johann Earle MAHAICONY, Guyana (AlertNet) – Rising sea levels caused by climate change are threatening the coast of Guyana, where most of the country's population and almost all of its economic activity are located.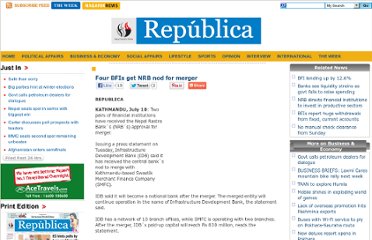 KATHMANDU, July 10 : Two pairs of financial institutions have received the Nepal Rastra Bank´s (NRB´s) approval for merger. Issuing a press statement on Tuesday, Infrastructure Development Bank (IDB) said it has received the central bank´s nod to merge with Kathmandu-based Swastik Merchant Finance Company (SMFC). IDB said it will become a national bank after the merger. The merged entity will continue operation in the name of Infrastructure Development Bank, the statement said.
Les représentants de six partis ont tenu vendredi une réunion consacrée à l'énergie et au développement durable sous la houlette d'Elio Di Rupo, chef du parti socialiste francophone chargé de former le futur gouvernement, dont il devrait prendre la tête en novembre. «Les négociateurs sont parvenus à un accord, confirmant la loi de sortie du nucléaire, à partir de 2015», rapporte le quotidien belge. Interrogée par l'AFP, une porte-parole de M.
Les motards en colère contre l'état des routes wallonnes belgique La Fédération belge des motards en colère a mené ce dimanche une action de grande ampleur pour dénoncer l'état des routes wallonnes. Mis en ligne Van Rompuy : «Ce que la Belgique a économisé n'est pas si impressionnant» belgique Le président du Conseil européen Herman Van Rompuy a défendu, dans une interview accordée au journal flamand De Zondag, la politique d'austérité européenne. Mis en ligne <p style="text-align:right;color:#A8A8A8"></p>