Math
A KS 1 money application where teachers and pupils can drag coins into a money box and then calculate the money box total. Uses coins 1p to 20p to a maximum total of £2.00 Open ended resource for teachers to ask their pupils questions as part of a whole class starter activity on money in maths. A KS 1 money application where teachers and pupils can choose items to buy and then pay for them by dragging coins onto a hand Uses coins 1p to 20p to a maximum total of £2.00 Drag and drop the toys onto the scales.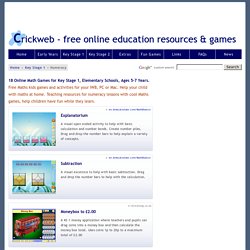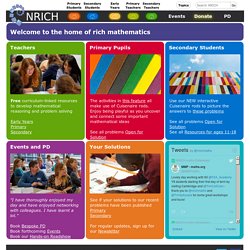 Welcome to the July edition of NRICH! This month we offer you a Random Spectacular! We've chosen some old favourites as well as some new ideas, that are just right to round off the school year, and can be used in the classroom or at home during the holidays. Pupils and students can submit solutions to the problems using the 'Submit a Solution' tab at the top of each problem. Solutions to the July problems will appear in September. If you're a teacher, the Teachers' Notes accompanying each problem offer guidance on possible ways of engaging learners in the activity or challenge.
Search Our Site Subscribe to our Free Email Newsletter.Sign Up! Advertisements:
Math and Children's Literature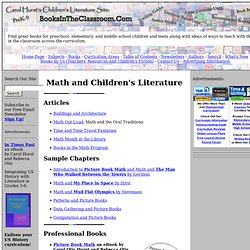 Videos - How to add with negative integer chips
Videos - Abbot_and_Costello_Maths_Problem
CMP Interactive Chip Model
Professional Development: Teaching Elementary Math with The Geom
We offer free webinars, and both face-to-face and online professional development for elementary, middle, and high school mathematics teachers. McGraw-Hill Education's professional development prepares you to integrate The Geometer's Sketchpad® software into your curriculum. Our goal is to provide you with the software skills, the curriculum, and the suggestions for implementation that will help you best use these dynamic mathematics programs with your students.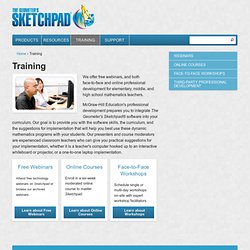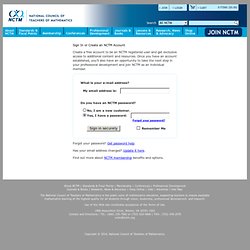 Sign In or Create an NCTM Account Create a free account to be an NCTM registered user and get exclusive access to additional content and resources. Once you have an account established, you'll also have an opportunity to take the next step in your professional development and join NCTM as an individual member.
My NCTM
you.cankenken.com
KS2 Bitesize: Maths - Interpreting data - activity
Coloring Multiples in Pascal's Triangle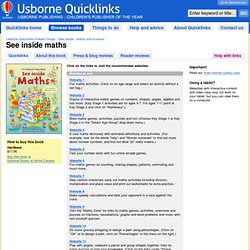 Quicklinks Click on the links to visit the recommended websites. Important! Read our three internet safety rules. Internet safety
Usborne Quicklinks: Canada: Select a link:
Considering Sketchpad - The Geometer's Sketchpad Resource Center
NLVM Pre-K - 2 - Number & Operations Manipulatives
Activities - The Geometer's Sketchpad Resource Center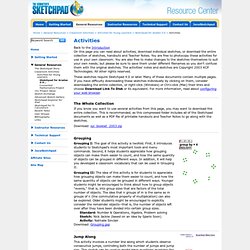 Back to the Introduction On this page you can read about activities, download individual sketches, or download the entire collection of sketches, handouts and Teacher Notes. You are free to photocopy these activities for use in your own classroom.