England
Mountainbike Scotland Homepage
Mountain Biking In North Yorkshire
www.phased.co.uk
Muddy Bikes - Mountain Biking & Outdoors Travel Guide & Forum
London Cyclist Blog | Happily cycling in London
Redlands Trails
2nd January 2014 Riders: Richard, Stevo & Jasper Holmbury Hill & Pitch Hill Weather: 9°C The Festive 500 turned out to be a disappointment for me with only one ride and 102 km covered out of the expected 500 so I was keen to start the new year off with a bang. After weeks and weeks of rain a clear, dry day promised at least the illusion of fun as Stevo, me and Jasper met up at an unusually deserted Holmbury YHA car-park. I suppose that is one of the benefits of mid-week riding. But the drive over to Holmbury showed that at least two horseman of the apocalypse had visited over the last few days as there were fallen trees visible along all the main A-roads from Epsom to Westcott with signs of rapid chainsaw action by the local council contractors as well as lakes of rainwater in every dip and depression on the roads.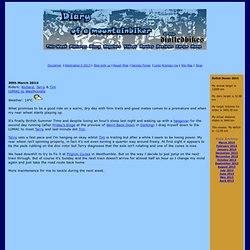 This week's riding
Biking - SIMONBARNESdotNET
Muddymoles | XC, Freeride and Downhill mountain bike (MTB) riding in the Mole Valley and Surrey Hills – Box, Leith, Pitch and Holmbury
I want my life back » Other stuff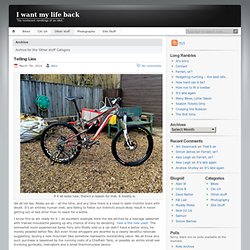 "it's about more eyeballs" was the passionate refrain from a man with a 'digital vision' and a poor choice in ties earlier in my week. Somebody, who shall spent an eternity in hell, had furnished this 'digital native' with novelty neck wear, a copy of powerpoint and an hour of my time to expound barely-baked theories on exactly how the world was going to work and – if we took his breathless advice – our place within in. Two problems.
Cycling News and Bike Reviews for Road Bikes, Mountain Bikes, BMX and More