Art
WELCUM TO OUR WEBSHITE | Jake and Dinos Chapman
The Yes Men
What is Missing?
Main : aaronsmithart
Untitled Document
ACE GALLERY | TARA DONOVAN
TOMOKAZU MATSUYAMA | Works
Minjae Lee
TOMOKAZU MATSUYAMA | News
Françoise Nielly - Artist :: home
Pete Fecteau
Sistine Chapel
Art Documentaries
Daze No 1 Taeko Takabe 2005 Etching/embossing Hongou
Overview - On the Cutting Edge Exhibition - Exhibits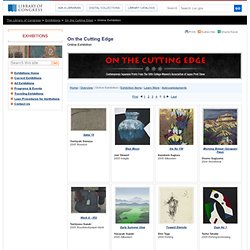 Zoran Nova | Designer | Illustrator
BLU >
paul cadden.com - Hyperrealism
Yuki Matsueda
a u d r e y * k a w a s a k i
Jackson Pollock by Miltos Manetas, original design by Stamen, press any key to s
Kris Kuksi
MAYA LIN STUDIO
非
La Selecta, arte contemporaneo y cultura popular en Ecuador » Página de Arte Contemporáneo, Fotografía y Cultura Urbana desde Quito, Ecuador.
Käthe-Kollwitz-Museum Berlin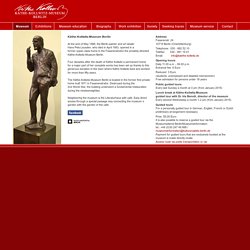 Käthe-Kollwitz-Museum Berlin At the end of May 1986, the Berlin painter and art dealer Hans Pels-Leusden, who died in April 1993, opened in a former upper-class home in the Fasanenstraße the privately directed Käthe-Kollwitz-Museum Berlin. Four decades after the death of Käthe Kollwitz a permanent home
deviantART: where ART meets application!
Art Project, powered by Google
unurth | street art