Typogrpahy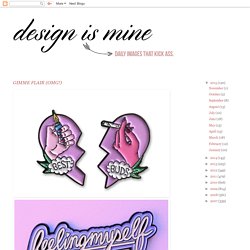 Being back in California has been making me yearn for a day trip out to the desert. I have been reminiscing of being young, taking road trips out to Las Vegas or Laughlin, sitting in the backseat with my headphones on and watching the sun set over rolling hills and endless cacti. I'm even finding the desert inspiring my home design now. Here's hoping for a possible mini vacation.
N A T I V E on the Behance Network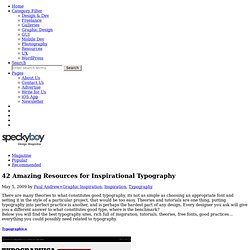 There are many theories to what constitutes good typography, its not as simple as choosing an appropriate font and setting it in the style of a particular project, that would be too easy. Theories and tutorials are one thing, putting typography into perfect practice is another, and is perhaps the hardest part of any design. Every designer you ask will give you a different answer to what constitutes good type, where is the benchmark?
90 Exciting Typography Posters and Designs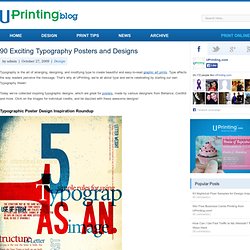 by admin | October 27, 2009 | Design Typography is the art of arranging, designing, and modifying type to create beautiful and easy-to-read graphic art prints. Type affects the way readers perceive the message. That's why at UPrinting, we're all about type and we're celebrating by starting our own Typography Week! Today we've collected inspiring typographic designs, which are great for posters, made by various designers from Behance, Coroflot and more.
by paul0v2 Mon, 08/22/2011 - 12:00 YouWorkForThem released a series of posters amazingly designed to display the new font Pello, it's mix of old aztec style with the some european flavor, the mix of typography, colors and shapes is stunning. Pello is an amazing font designed by YouWorkForThem. At first glance, YWFT Pello might appear to be something from the tonalpohualli, and may inspire a pilgrimage to Teotihuacán, but it has great geometric, modern style that lurks within the angles of this incredible fontface.
Pello Type Posters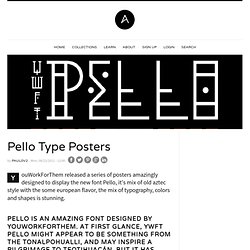 Here at WDL we love to show our readers inspiration from different media, especially inspiration involving typography. From package to web and print, we believe that typography can always be a great source of inspiration. Today we gathered a few examples of inspiring and creative typography usage in print ads. About the Author Gisele Muller loves communication, technology, web, design, movies, gastronomy and creativity. Web writer, portuguese/english translator and co founder of @refilmagem & @mentaway Twitter: @gismullr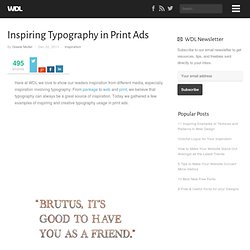 Inspiring Typography in Print Ads