Information, cheats, hacking game files (not cheats),
Get flash to fully experience Pearltrees
So, now that you've got the Homebrew Channel you're ready to rumble with some applications and games? You have so many choices of where to proceed from here, but I might be able to help you get started. First of all, you will need this program:
This page is intended to track changes in IOS ( the operating system that runs on Starlet ) such as: added features, bug fixes, etc. It will also cover what different minor versions are known to exist. Overview The Title ID of the IOSes follow this convention "00000001-000000xx" where xx is the IOS number in hexadecimal.
Native wii cheat code manager, for use with WiiRd codes and the GeckoOS\Ocarina code handler. Select codes from .txt file and encode to .gct format. Works with Code Downloader .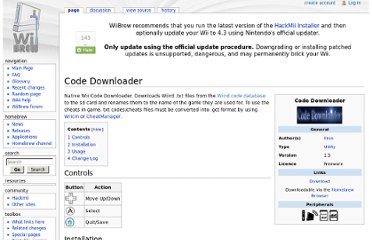 Native Wii Code Downloader. Downloads Wiird .txt files from the Wiird code database to the sd card and renames them to the name of the game they are used for. To use the cheats in game, txt codes/cheats files must be converted into .gct format by using Wiicm or CheatManager . Controls Installation
FAILURE TO DO SO MAY RESULT IN BRICKING YOUR Wii. WiiWare is distributed as wad files. These can be installed using WAD Manager (place the .wad files in a folder called "wad" on the root of your card): Yet Another WAD Manager MOD WAD Manager will not work unless you have an IOS available with the signature hash check (Trucha Bug).