Money
Audio Transcription Outsourcing. ResumeBear Online Resume Builder | Advance Your Career Empower Your Resume. Easy Answers to Tough Interview Questions | YellowBrickRoad. If you were invited for an interview, you've conquered half the battle; the recruiter already thinks you can do the job based on your resume.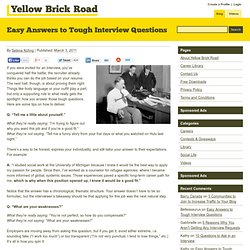 The next half, though, is about proving them right. Things like body language or your outfit play a part, but only a supporting role to what really gets the spotlight: how you answer those tough questions. Here are some tips on how to deliver. New Page 1. The 25 most difficult questions.
If you are one of those executive types unhappy at your present post and embarking on a New Year's resolution to find a new one, here's a helping hand.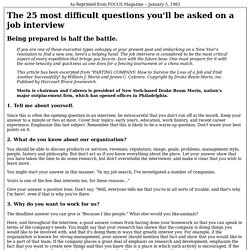 The job interview is considered to be the most critical aspect of every expedition that brings you face-to- face with the future boss. One must prepare for it with the same tenacity and quickness as one does for a fencing tournament or a chess match. This article has been excerpted from "PARTING COMPANY: How to Survive the Loss of a Job and Find Another Successfully" by William J. Morin and James C. Cabrera.
---