Startup
6 Things a Successful Startup Needs. What are the keys to startup success and how can you know if a startup is likely to succeed?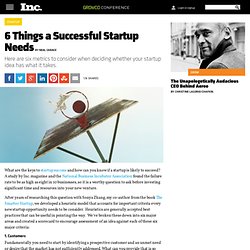 A study by Inc. magazine and the National Business Incubator Association found the failure rate to be as high as eight in 10 businesses, so it is a worthy question to ask before investing significant time and resources into your new venture. After years of researching this question with Sonya Zhang, my co-author from the book The Smarter Startup, we developed a heuristic model that accounts for important criteria every new startup opportunity needs to be consider. Heuristics are generally accepted best practices that can be useful in pointing the way. We've broken these down into six major areas and created a scorecard to encourage assessment of an idea against each of these six major criteria:
Venture creation: a new form of entrepreneurship? INSEAD alum Fabian Hansmann (MBA '06D) has taken a novel approach to entrepreneurship.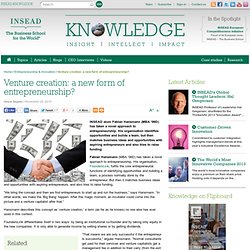 His organisation identifies opportunities and builds a team, but then matches business ideas and opportunities with aspiring entrepreneurs and also tries to raise funding. Fabian Hansmann (MBA '06D) has taken a novel approach to entrepreneurship. Patagonia Launches New $20M Green Venture Capital Fund. Patagonia is renowned for its consistent environmental support; each year, the o utdoor apparel company gives away 1% of its profits to grassroots environmental nonprofits.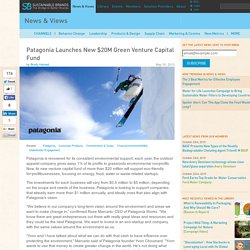 Now, its new venture capital fund of more than $20 million will support eco-friendly for-profit businesses, focusing on energy, food, water or waste-related startups. The investments for each business will vary from $0.5 million to $5 million, depending on the scope and needs of the business. Patagonia is looking to support companies that already earn more than $1 million annually, and ideally ones that also align with Patagonia's vision. "We believe in our company's long-term vision around the environment and areas we want to make change in," confirmed Rose Marcario, CEO of Patagonia Works. "We know there are great entrepreneurs out there with really great ideas and resources and they could be the next Patagonia. Discussion of the Week: Setting Valuation - The Accelerators. Bootstrapper » Calculate This! 100 Financial Calculators Every Entrepreneur Needs.
Calculate This!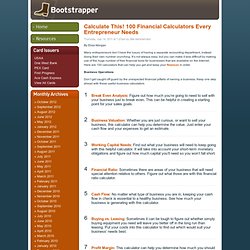 100 Financial Calculators Every Entrepreneur Needs Thursday, July 14, 2011 at 1:27pm by Site Administrator. Entrepreneurship Corner: Stanford University's free podcasts and video clips of entrepreneurial thought leaders and innovators from Silicon Valley. Resources :: Building A Company. Building a CompanyGarage Technology Ventures2014-02-16T19:55:59+00:00 ACCELERATE THE GROWTH of your company with our great resources below.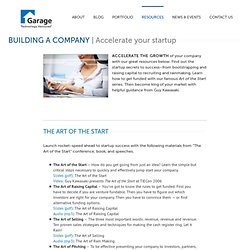 Find out the startup secrets to success–from bootstrapping and raising capital to recruiting and rainmaking. Learn how to get funded with our famous Art of the Start series. The StartUp Blog at PartnerUp. Zible.
---