Startup
6 Things a Successful Startup Needs
Venture creation: a new form of entrepreneurship?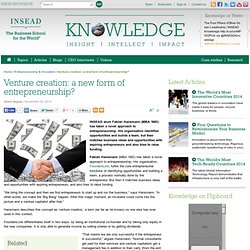 INSEAD alum Fabian Hansmann (MBA '06D) has taken a novel approach to entrepreneurship. His organisation identifies opportunities and builds a team, but then matches business ideas and opportunities with aspiring entrepreneurs and also tries to raise funding. Fabian Hansmann (MBA '06D) has taken a novel approach to entrepreneurship. His organisation, FoundersLink, fulfils the core entrepreneurial functions of identifying opportunities and building a team, a process normally done by the entrepreneur.
Patagonia is renowned for its consistent environmental support; each year, the o utdoor apparel company gives away 1% of its profits to grassroots environmental nonprofits. Now, its new venture capital fund of more than $20 million will support eco-friendly for-profit businesses, focusing on energy, food, water or waste-related startups. The investments for each business will vary from $0.5 million to $5 million, depending on the scope and needs of the business. Patagonia is looking to support companies that already earn more than $1 million annually, and ideally ones that also align with Patagonia's vision. "We believe in our company's long-term vision around the environment and areas we want to make change in," confirmed Rose Marcario, CEO of Patagonia Works. "We know there are great entrepreneurs out there with really great ideas and resources and they could be the next Patagonia.
Patagonia Launches New $20M Green Venture Capital Fund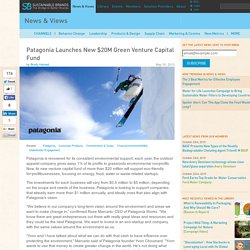 Discussion of the Week: Setting Valuation - The Accelerators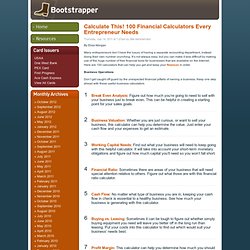 Calculate This! 100 Financial Calculators Every Entrepreneur Needs Thursday, July 14, 2011 at 1:27pm by Site Administrator
Resources :: Building A Company
Building a CompanyGarage Technology Ventures2014-02-16T19:55:59+00:00 ACCELERATE THE GROWTH of your company with our great resources below. Find out the startup secrets to success–from bootstrapping and raising capital to recruiting and rainmaking. Learn how to get funded with our famous Art of the Start series.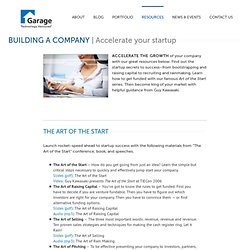 The StartUp Blog at PartnerUp
In an effort to make our site as open as possible we have unintentionally made it too easy for spammers to harass our beloved members. The last thing we want to do is alienate our members, so we are working hard to keep the site as unencumbered as possible but really weed out spammers and outright lock down some of the features that were too easy to exploit. Features like sending custom messages with invites. We hope you'll still invite people, especially once we rid of our little infestation. In the mean time feel free to flag spammy content and report anybody that bugs you.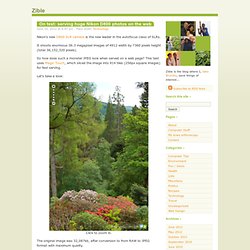 Zible
The IMF thinks cutting interest rates and VAT will grow the UK economy. They are so wrong. Firstly, VAT is the best of all taxes – it slows down consumption (the cause of mankind's greatest problems). Secondly, the state needs the proceeds from VAT to help pay back our debt mountain.
http://www.boomj.com/?page=financial-planning/articles/bus-hr/01