Kids Fair Ideas
Hanging Leaves. How to Make Friendship Bracelets - in 7 Easy Steps. Braided Headband Tutorial. It's chilly outside here today and I'm loving it!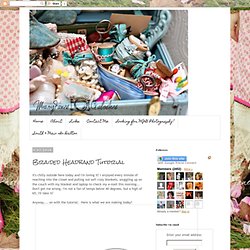 I enjoyed every minute of reaching into the closet and pulling out soft cozy blankets, snuggling up on the couch with my blanket and laptop to check my e-mail this morning... Don't get me wrong, I'm not a fan of temps below 40 degrees, but a high of 65, I'll take it! Anyway.... on with the tutorial. Make a Friendship Bracelet the Easy Way. Make a Friendship Bracelet the Easy Way. Sailor's Knot Bracelets :: Etsy Blog.
With fall days of colored leaves, chunky sweaters and spiced cider in our future, it's just about time to pack up the beach gear until next year.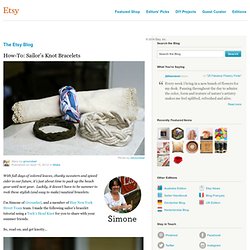 Luckily, it doesn't have to be summer to rock these stylish (and easy to make) nautical bracelets. I'm Simone of Groundsel, and a member of Etsy New York Street Team team. V and Co how to: jersey knit bracelet. I don't know what it is about this time of year that makes me just want to have my bare feet in the sand, be watching the sun setting into the ocean, and breathing in the warm salty air of the beach...as i get older, more and more i find myself missing that place i used to go to almost every.single.day. as a teen.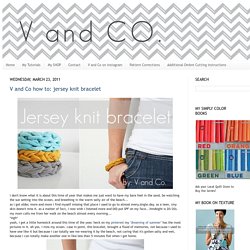 (my skin doesn't miss it. as a matter of fact, i now wish i listened more and DID put SPF on my face...hindsight is 20/20). my mom calls me from her walk on the beach almost every morning... *sigh*yeah, i get a little homesick around this time of the year. heck on my pinterest my "dreaming of summer" has the most pictures in it. ah yes. i miss my ocean. case in point. this bracelet, brought a flood of memories, not because i used to have one like it but because i can totally see me wearing it by the beach, not caring that it's gotten salty and wet, because i can totally make another one in like less than 5 minutes flat when i get home.
Print Hula Hoop Rug Page | Crafts. This photo originally appeared in FamilyFun Magazine Total Time 2 to 3 hours Ages school-age What does it take to transform a pile of old T-shirts into spectacular works of woven art?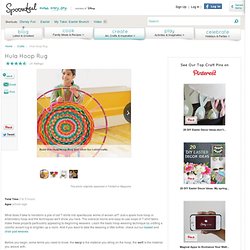 ---