Random Music Sites
10 Terrific Covers of Rap Songs (And 10 We Want to See Happen) There are million YouTube videos of people covering rap, hip-hop and R&B songs, and it can be overwhelming to sift through them all—so we've done it for you.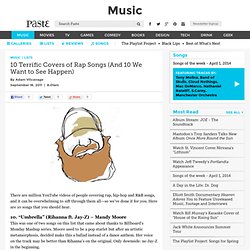 Here are 10 songs that you should hear. 10. "Umbrella" (Rihanna ft. Jay-Z) – Mandy Moore This was one of two songs on this list that came about thanks to Billboard's Monday Mashup series. Listen to a Wall of reggae Music. This song is sick. Posted in Bangin, Video by nick | Tags: 2014, Chance the Rapper, Hip-Hop, LIVE, Lollapalooza Chance the Rapper made a legendary return to his home city of Chicago after gaining a monstrous global following as he played a huge set at the trend setting Lollapalooza music festival.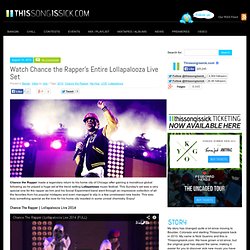 This Sunday's set was a very special one for the rapper as him and his Social Experiment band went through an impressive collection of all the favorites from his popular mixtapes and even managed to slip in a few unreleased new tracks. This was truly something special as the love for his home city resulted in some unreal chemistry. Enjoy! Chance The Rapper | Lollapalooza Live 2014. DJ - Create fun & easy DJ mix playlists with YouTube videos - Crossfade and DJ music online. The Music Ninja - Discover new music everyday.
Stereomood – emotional internet radio - music for my mood and activities.
---