Irisgarri
World Wide Web Consortium (W3C) The W3C Markup Validation Service. Designing More Usable Web Sites. This section of Designing a More Usable World is dedicated to cooperative efforts linked toward building a more usable Web for all.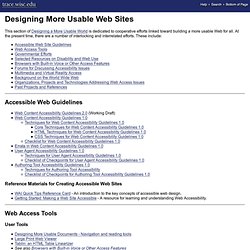 At the present time, there are a number of interlocking and interrelated efforts. These include: Accessible Web Guidelines. Worldspace FireEyes Web Accessibility Validation. Worldspace Sync and FireEyes are unprecedented, next-generation web accessibility tools that ensure both static and dynamic content within a web portfolio are compliant with standards such as Section 508, WCAG 1.0, and WCAG 2.0.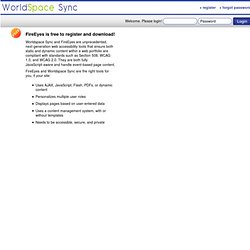 They are both fully JavaScript-aware and handle event-based page content. FireEyes and Worldspace Sync are the right tools for you, if your site: WAVE Toolbar. Accessibility - Web Accessibility Checklist. 1) Validate Your (x)HTML and CSS Assistive technology relies on valid (x)html, so make sure you start with clean html. 2) Design Your Site with Accessibility in Mind As Dr.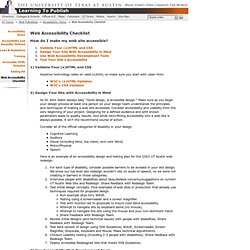 John Slatin always said, "Good design, is accessible design. " Make sure as you begin your design process at least one person on your design team understands the principles and techniques of making a web site accessible. The Web Developer Extension for Mozilla-based Browsers. You are here: Home > Resources > The Web Developer Extension for Mozilla-based Browsers Introduction to the Web Developer Extension The Web Developer Extension, created by Chris Pederick, is a very popular and useful resource for web designers.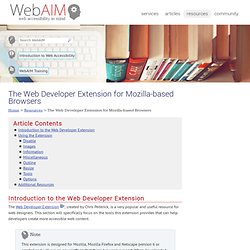 This section will specifically focus on the tools this extension provides that can help developers create more accessible web content. Note This extension is designed for Mozilla, Mozilla Firefox and Netscape (version 6 or greater) and will run on any platform that these browsers support. 1: Introduction to The Web Standards Curriculum/Table of Contents. By Chris Mills 11th October 2012: Material moved to webplatform.org The Opera web standards curriculum has now been moved to the docs section of the W3C webplatform.org site.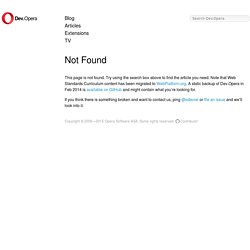 Go there to find updated versions of these docs, and much more besides! 12th April 2012: This article is obsolete The web standards curriculum has been donated to the W3C web education community group, to become part of a much bigger educational resource.
---