Irisgarri
Designing More Usable Web Sites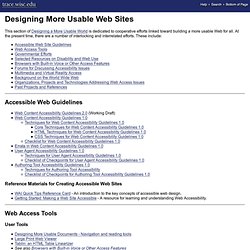 This section of Designing a More Usable World is dedicated to cooperative efforts linked toward building a more usable Web for all.
Worldspace Sync and FireEyes are unprecedented, next-generation web accessibility tools that ensure both static and dynamic content within a web portfolio are compliant with standards such as Section 508, WCAG 1.0, and WCAG 2.0. They are both fully JavaScript-aware and handle event-based page content. FireEyes and Worldspace Sync are the right tools for you, if your site:
Worldspace FireEyes Web Accessibility Validation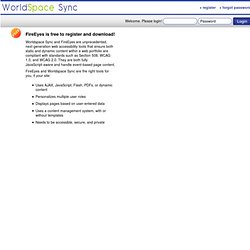 WAVE Toolbar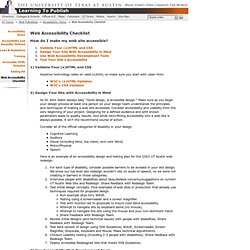 1) Validate Your (x)HTML and CSS Assistive technology relies on valid (x)html, so make sure you start with clean html.
Accessibility - Web Accessibility Checklist
You are here: Home > Resources > The Web Developer Extension for Mozilla-based Browsers Introduction to the Web Developer Extension
The Web Developer Extension for Mozilla-based Browsers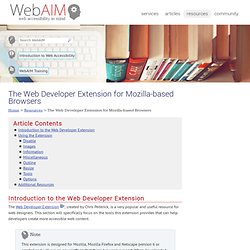 By Chris Mills 11th October 2012: Material moved to webplatform.org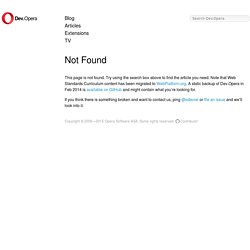 1: Introduction to The Web Standards Curriculum/Table of Contents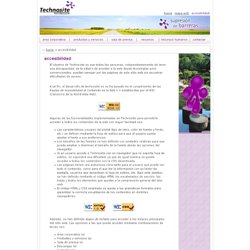 Accesibilidad del site - Technosite
El objetivo de Technosite es que todas las personas, independientemente de tener una discapacidad, de la edad o de acceder a la web desde tecnologías poco convencionales, puedan navegar por las páginas de este sitio web sin encontrar dificultades de acceso. A tal fin, el desarrollo de technosite.es se ha basado en el cumplimiento de las Pautas de Accesibilidad al Contenido en la Web 1.0 establecidas por el W3C (Consorcio de la World Wide Web).