Irisgarri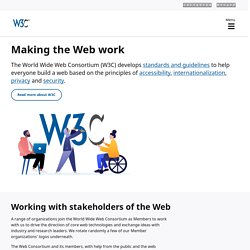 A reminder for people interested in the joint W3C/IAB "STRINT" workshop: The deadline for submitting position papers is Wednesday 15 January 2014. The workshop pages explain how to submit. The main theme of the workshop is pervasive monitoring and how (future) Internet protocols can be protected against it. See the workshop pages for additional topics and details. The STRINT (Strengthening the Internet Against Pervasive Monitoring) workshop will be held in central London, just before IETF-89, on Saturday March 1, and, if necessary, on the afternoon of Friday February 28.
Designing More Usable Web Sites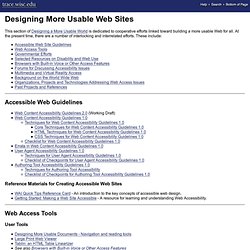 This section of Designing a More Usable World is dedicated to cooperative efforts linked toward building a more usable Web for all. At the present time, there are a number of interlocking and interrelated efforts. These include: Accessible Web Guidelines
Worldspace Sync and FireEyes are unprecedented, next-generation web accessibility tools that ensure both static and dynamic content within a web portfolio are compliant with standards such as Section 508, WCAG 1.0, and WCAG 2.0. They are both fully JavaScript-aware and handle event-based page content. FireEyes and Worldspace Sync are the right tools for you, if your site:
Worldspace FireEyes Web Accessibility Validation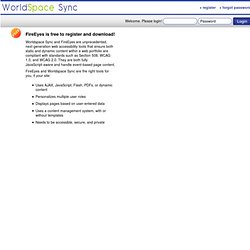 WAVE Toolbar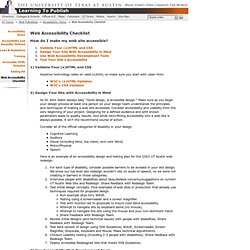 1) Validate Your (x)HTML and CSS Assistive technology relies on valid (x)html, so make sure you start with clean html. 2) Design Your Site with Accessibility in Mind As Dr. John Slatin always said, "Good design, is accessible design." Make sure as you begin your design process at least one person on your design team understands the principles and techniques of making a web site accessible.
Accessibility - Web Accessibility Checklist
You are here: Home > Resources > The Web Developer Extension for Mozilla-based Browsers Introduction to the Web Developer Extension The Web Developer Extension, created by Chris Pederick, is a very popular and useful resource for web designers. This section will specifically focus on the tools this extension provides that can help developers create more accessible web content. Note This extension is designed for Mozilla, Mozilla Firefox and Netscape (version 6 or greater) and will run on any platform that these browsers support.
The Web Developer Extension for Mozilla-based Browsers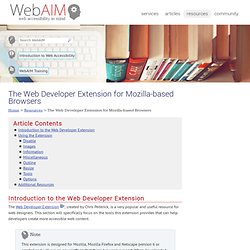 By Chris Mills 11th October 2012: Material moved to webplatform.org The Opera web standards curriculum has now been moved to the docs section of the W3C webplatform.org site. Go there to find updated versions of these docs, and much more besides! 12th April 2012: This article is obsolete The web standards curriculum has been donated to the W3C web education community group, to become part of a much bigger educational resource.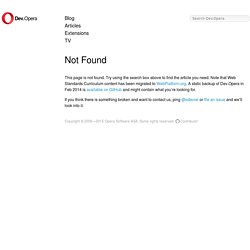 1: Introduction to The Web Standards Curriculum/Table of Contents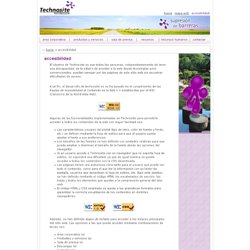 Accesibilidad del site - Technosite
El objetivo de Technosite es que todas las personas, independientemente de tener una discapacidad, de la edad o de acceder a la web desde tecnologías poco convencionales, puedan navegar por las páginas de este sitio web sin encontrar dificultades de acceso. A tal fin, el desarrollo de technosite.es se ha basado en el cumplimiento de las Pautas de Accesibilidad al Contenido en la Web 1.0 establecidas por el W3C (Consorcio de la World Wide Web). Algunas de las funcionalidades implementadas en Technosite para permitirle acceder a todos los contenidos de la web con mayor facilidad son: Las características visuales del portal (tipo de letra, color de fuente y fondo, etc.) se definen mediante la hoja de estilos para que el usuario pueda ajustar el texto a sus preferencias. Los tamaños de las fuentes se han definido con unidades relativas para que pueda ampliar o disminuir el tamaño de la fuente desde las opciones del navegador.