Theory of Knowledge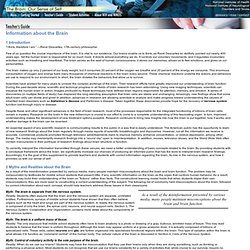 1 Introduction "I think, therefore I am." —René Descartes, 17th-century philosopher Few of us question the crucial importance of the brain.
It is controversial whether the adult primate early visual cortex is sufficiently plastic to cause visual perceptual learning (VPL). The controversy occurs partially because most VPL studies have examined correlations between behavioral and neural activity changes rather than cause-and-effect relationships. With an online-feedback method that uses decoded functional magnetic resonance imaging (fMRI) signals, we induced activity patterns only in early visual cortex corresponding to an orientation without stimulus presentation or participants' awareness of what was to be learned. The induced activation caused VPL specific to the orientation. These results suggest that early visual areas are so plastic that mere inductions of activity patterns are sufficient to cause VPL. This technique can induce plasticity in a highly selective manner, potentially leading to powerful training and rehabilitative protocols.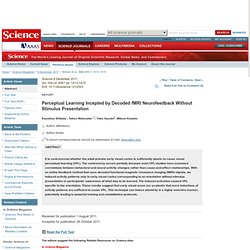 Perceptual Learning Incepted by Decoded fMRI Neurofeedback Without Stimulus Presentation
Press Release 11-257 Vision Scientists Demonstrate Innovative Learning Method New research suggests it may be possible to learn high-performance tasks with little or no conscious effort December 8, 2011 View a video showing researchers explaining Decoded Neurofeedback. New research published today in the journal Science suggests it may be possible to use brain technology to learn to play a piano, reduce mental stress or hit a curve ball with little or no conscious effort.
Vision Scientists Demonstrate Innovative Learning Method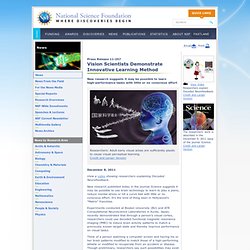 Scientists say they're getting closer to Matrix-style instant learning