Tools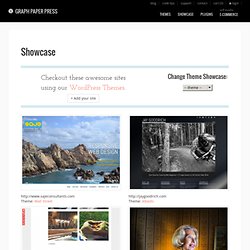 Showcases - Graph Paper Press
http://www.sajeconsultants.com Theme: Wall Street http://jaygoodrich.com Theme: Albedo http://wordsbyjo.com/ Theme: Gridspace http://mattrothphoto.com Theme: Immense http://www.kevinuphoto.com Theme: Reportage http://artandstock.com/ Theme: Sell Photos
Graphic designing is an art that requires creativity, hard-work and the right tools to add a personal dimension to the project. The right software can assist in the vision of a graphic designer in creating an attractive, visually-stimulating and distinct graphic art. A list of the top essential graphic design tools are provided below. These are the best in the market and are very advantageous to graphic designers, who want to make a mark in their business. These graphic design tools will not only give you the power when it comes to actually designing, but they will also help streamline your workflow and maximize your productivity. If you like our roundup of graphic design tools, check out these posts: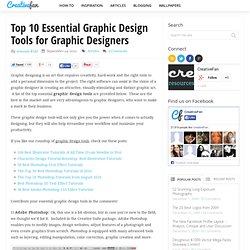 Top 10 Essential Graphic Design Tools for Graphic Designers
Envato Studio is an online marketplace for freelance services focused on design and web-development. Services range from designing a logo to WordPress customization, and all service providers have been reviewed and recommended by our expert review team. If you were a user of the FreelanceSwitch Job Board (as either a freelancer or client) we recommend you check out Envato Studio. Also check out the Envato Studio Blog. This is now home to some of the content published on FreelanceSwitch (including the Freelance Freedom Comic) as well as fresh content that may be of interest.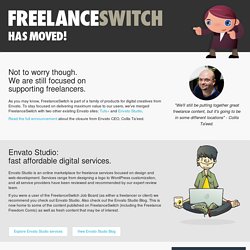 Advertisement The economy is bad. No one's job is really 100% safe, so it's time we all bucked up and got our recession bags packed (just in case!). Your portfolio is already gorgeous, but have you created a drool-worthy résumé?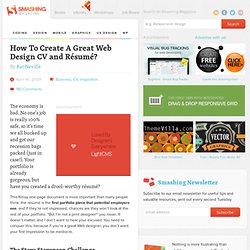 Competitor analysis is apart of any SEO campaign. There is so much you can learn from what your offline and online competitors are doing with their site. But just like every aspect of online marketing – it's extremely time consuming. In my past agency experience and at my current job at Raven Tools, I've compiled a suite of various tools that I use to analyze my clients' competitors. There's a lot of tools in this list, so I broke them down by what I use them for in the competitive analysis. Let me know if I missed any of your favorites!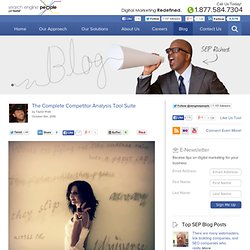 The Complete Competitor Analysis Tool Suite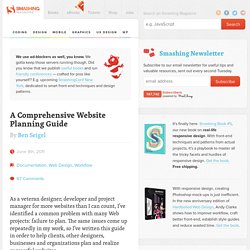 Advertisement As a veteran designer, developer and project manager for more websites than I can count, I've identified a common problem with many Web projects: failure to plan. The same issues come up repeatedly in my work, so I've written this guide in order to help clients, other designers, businesses and organizations plan and realize successful websites. This guide is written in relatively non-technical language and provides a broad overview of the process of developing a website, from the initial needs assessment through the launch, maintenance and follow-up. It is appropriate for: Small and medium-sized businesses;Organizations;Institutions;Web designers, developers, and design and development firms.
Advertisement At some point in the future, the way that all major browsers render Web code will likely be standardized, which will make testing across multiple browsers no longer necessary as long as the website is coded according to Web standards. But because that day is still a way off (if it will really come at all), testing your design the advanced browsers as well as legacy browsers is a necessary part of any project. The old-school way to test code was to load your website on as many computers as you could find, using as many different combinations of browsers and operating systems as possible. That was fine if you had access to a bunch of different computers (and had some time to kill).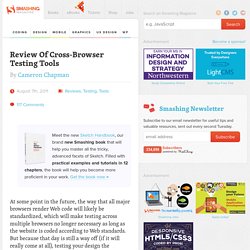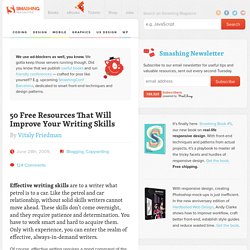 Advertisement Effective writing skills are to a writer what petrol is to a car. Like the petrol and car relationship, without solid skills writers cannot move ahead. These skills don't come overnight, and they require patience and determination.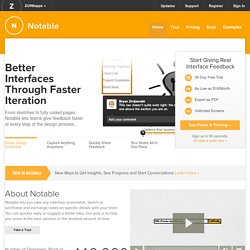 Better Interfaces Through Faster Iteration.From sketches to fully coded pages, Notable lets teams give feedback faster at every step of the design process. Capture From AnywhereWhether you're working with sketches, wireframes, mockups or coded pages, Notable lets you capture it all in Internet Explorer, Firefox, Safari or Chrome. You can also upload images, PDFs and PowerPoints, or capture directly from Windows, Mac or Photoshop. Quickly Share FeedbackEasily share your feedback with only the people it's intended for.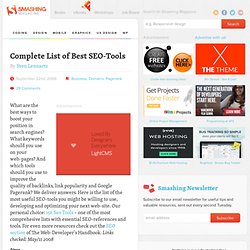 Advertisement What are the best ways to boost your position in search engines? What keywords should you use on your web-pages? And which tools should you use to improve the quality of backlinks, link popularity and Google Pagerank? We deliver answers. Here is the list of the most useful SEO-tools you might be willing to use, developing and optimizing your next web-site.
Templates
Designing More Usable Web Sites
This section of Designing a More Usable World is dedicated to cooperative efforts linked toward building a more usable Web for all. At the present time, there are a number of interlocking and interrelated efforts. These include:
Tens of thousands of designers use LayerVault to organize, version, present, and collaborate on design. Take a tour. Store Securely store work and sync files with LayerVault Sync or Dropbox. Version
Features that killing others - MOREDAYS, Inc.
Moredays is a completely new way of planning and recording life that crosses the borders of standard planning and turns paper calendar into an electronic/digital calendar. We have created a system that is far less complex and a lot more fun than other calendars and productivity tools. Never experience boredom while planning – save your memories, share and plan your days in a simple and intuitive way.
Spilled coffee on the keyboard? We've all been there. With Mozy, you can download all of your files with just one click (yes, it really is that easy). You can also receive emails and alerts when your restore requests are ready for download.
Free | Mozy > MozyHome
Advertisement Web design community is strong and hard-working. We have plenty of useful resources, tools and services created, developed and released every single day: apart from goodies such as free fonts or icons, there are also many educational resources and little time-savers that can significantly improve designer's workflow. We permanently look out for the new projects and support them by presenting them on Twitter, Facebook, in our e-mail newsletter and, evidently, in Smashing Magazine's posts. Today we are glad to present one of such posts: an overview of handy new resources for web designers; most of them were released recently, but some of them are a bit older. Still, they were included to supplement the overview, making the post more comprehensive and complete.
tools - Smashing Magazine