Random stuff
Simple Ideas That Are Borderline Genius Part 4
By Daily Mail Reporter Updated: 08:14 GMT, 23 November 2010 Now here's a clear case of life imitating art. This remarkable image shows a colony of Caribbean flamingos spontaneously arranging themselves into the shape of one giant flamingo. A colony of Caribbean flamingos spontaneously arrange themselves into the shape of one giant flamingo in Yucatan, Mexico Photographer Bobby Haas had been taking hundreds of pictures of the birds from a helicopter Photographer Bobby Haas had been taking hundreds of pictures of the birds from a helicopter in Yucatan, Mexico.
Bird's eye view: Nature's way of imitating art as flamingos create remarkable image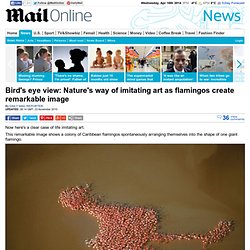 MIND = BLOWN: How to test short sightedness
User:Colin Douglas Howell/Dinosauria size comparison table
Video
This Is Halloween [Anime Expo 2010 AMTV Pro Winner]
4998
Page 1 of Archive // Daily Costume
jurassic-park-umbrella.gif (GIF Image, 270x180 pixels)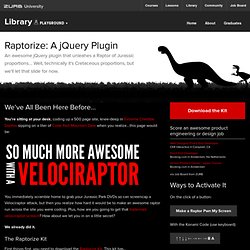 You're sitting at your desk, coding up a 500 page site, knee-deep in Extreme Cheddar Doritos sipping on a liter of Code Red Mountain Dew when you realize...this page would be: You immediately scramble home to grab your Jurassic Park DVDs so can screencap a Velociraptor attack, but then you realize how hard it would be to make an awesome raptor run across the site you were coding. Plus, how are you going to get that trademark velociraptor screech?
Raptorize: An awesome jQuery plugin that unleahes a Raptor - ZURB Playground - ZURB.com
YTMND - Interior Crocodile Alligator
New Page 0
The Bizarre Blanket Octopus - Amazing Incredible!
There are lots of words that mean or imply "beautiful." Here's a list pulled from a thesaurus: adonic, adorable, aesthetic, alluring, attractive, becoming, blooming, bonny, bright, charming, classy, comely, dainty, dapper, dazzling, delicate, elegant, enchanting, exquisite, fair, fascinating, fine, glamorous, glossy, glowing, gorgeous, graceful, handsome, lovely, magnificent, picturesque, pretty, quaint, refined, resplendent, rosy, seemly, shapely, shining, sparkling, splendid, spotless, spruce, stylish, sublime, superb, svelte, winsome. My guess is you know these words and their derivatives.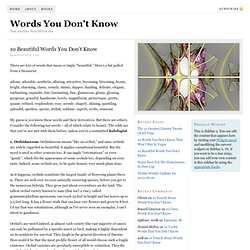 10 Beautiful Words You Don't Know | Words You Dont Know
A Mottephobiac's Nightmare on Vimeo
Instant Classy Date: Pics, Videos, Links, News
Human Family Reunion
Copying Is Not Theft -- remixed (jazz)
nicole kidman chanel commercial
Calvin Klein CK One / CK Be Promo - "Altered States"
Japanese Precision
Impressive' French Body Poppin'
moogaloop.swf (application/x-shockwave-flash Object)
Color Cycling
Having Some Fun - 12.26.09 on Vimeo
epik beard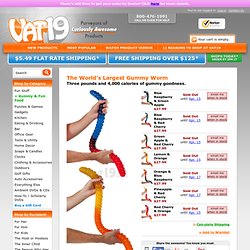 Gummy Worms are delicious. But they're small. When you really need to get your gummy worm "fix", there is no substitute for the World's Largest Gummy Worm. Weighing in at three pounds, it is 128 times bigger than a traditional gummy worm.
DirecTV Russian Guy Funny Commercial ("Opulence, I Has It")
Dolph Lundgren grillar en enhörning
Spot Vigorsol - Walrus Funny Commercial
Old Spice | Raven starring NFL Superperson Ray Lewis