Painting
Painting a Painting with Michael Shapcott No.2. Myoe Win Aung Paintings. Illustrations by Mike Mitchell. SUPAKITCH & KORALIE - VÄRLDSKULTUR MUSEET GÖTEBORG. Beautiful Watercolor Landscapes (12 pieces) Z.L.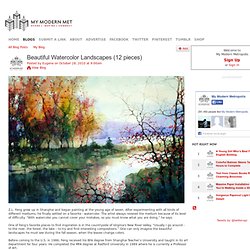 Feng grew up in Shanghai and began painting at the young age of seven. After experimenting with all kinds of different mediums, he finally settled on a favorite - watercolor. The artist always revered the medium because of its level of difficulty. Alphonse Mucha Gallery (1860-1939 ) | Art Browser Page 2. Audrey Kawasaki's Creative Workspace (11 pics) ///byroglyphics-gallery. Leonidafremov on deviantART. Leonid Afremov: One of the Most Colorful Painters Ever. Finding more than few written lines about Leonid Afremov is almost impossible.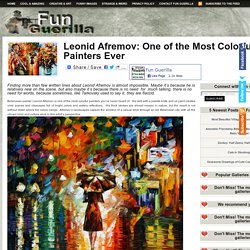 Maybe it's because he is relatively new on the scene, but also maybe it's because there is no need for much talking, there is no need for words, because sometimes, like Tarkovsky used to say it, they are flaccid. Belarusian painter Leonid Afremov is one of the most colorful painters you've never heard of. His skill with a palette knife and oil paint creates vivid scenes and cityscapes full of bright colors and watery reflections. His thick strokes are almost mosaic in nature, but the result is not without detail where the colors merge. Liru_pinacoteca - Художник Kal Gajoum | 'Уличный импрессионизм', 2 часть. Liru_pinacoteca liru_pinacoteca Художник Kal Gajoum | 'Уличный импрессионизм', 2 часть.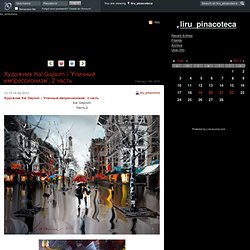 Anahata Katkin: I recently salvaged this image from my stash of paintings.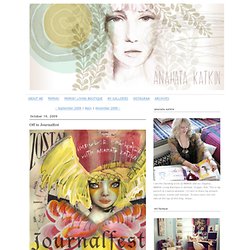 The face had gotten too cartoon-ish for me and I was feeling like giving up on her at the time. She was surrounded by tropical lillies at first but since has been reborn. I brought her back from Belize and decided to suck it up and put some cold weather gear on her. Like me she's a tropical transport. Suited up for the upcoming winter and planning on settling in Ashland too...
---