Top Brands
History of the Coca Cola bottle | Ubersuper - Flock
When I first saw this Pepsi ad in The New York Times I felt good about the direction the new Pepsi branding was taking. It felt fresh, fun, optimistic, uncomplicated. It was timely and seemed to be hitting the right cords. Then I saw the packaging in a supermarket. The freshness and excitement of the Pepsi branding ads are missing from the package A you can see the package looks rather stark.
Is Pepsi taking its branding seriously? | Brandingeye - Flock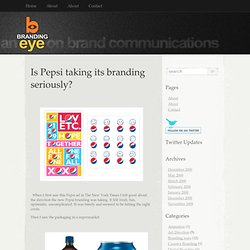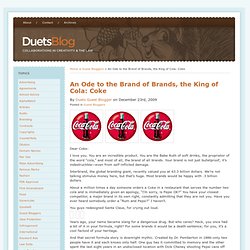 An Ode to the Brand of Brands, the King of Cola: Coke : Duets Bl
Dear Coke: I love you. You are an incredible product.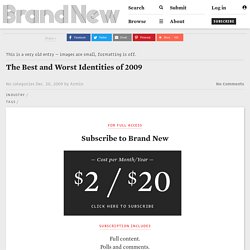 Summary of 2009 BY Armin
The Best and Worst Identities of 2009 - Brand New - Flock