Social Masters
ReadWriteWeb - Web Apps, Web Technology Trends, Social Networkin
Social Media News and Web Tips – Mashable – The Social Media Gui
Dion Hinchcliffe's Web 2.0 Blog
Mídia Boom l Mídia Social - Flock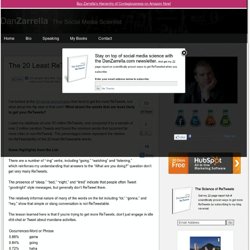 The 20 Least ReTweetable Words | Dan Zarrella - Flock
I've looked at the 20 words and phrases that tend to get the most ReTweets, but what about the flip-side of that coin? What about the words that are least likely to get your ReTweets? I used my database of over 30 million ReTweets, and compared it to a sample of over 2 million random Tweets and found the common words that occurred far more often in non-ReTweets.
Dan Zarrella, Social Media Marketing and Viral Marketing Scienti
Social Media Examiner, Your Guide to the Social Media Jungle - F
30 Best Blogs of 2009 - Flock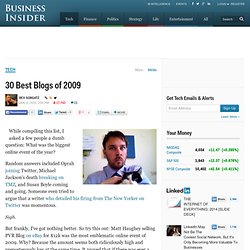 While compiling this list, I asked a few people a dumb question: What was the biggest online event of the year? Random answers included Oprah joining Twitter, Michael Jackson's death breaking on TMZ, and Susan Boyle coming and going. Someone even tried to argue that a writer who detailed his firing from The New Yorker on Twitter was momentous. Sigh. But frankly, I've got nothing better.