Social Masters
ReadWriteWeb - Web Apps, Web Technology Trends, Social Networkin
Social Media News and Web Tips – Mashable – The Social Media Gui
It wasn't my idea or my choice, but a couple of days ago I was taken for dinner to a restaurant which refers to itself as a "Chinese and Western Food Restaurant". The industry has pretty much settled on the calculation for GC efficiency to be 1 - ( total GC pause time / application run time). It's a reasonable measure of how much CPU the parallel collectors are taking away from application (otherwise known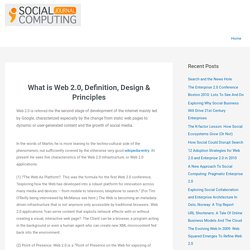 Dion Hinchcliffe's Web 2.0 Blog
Mídia Boom l Mídia Social - Flock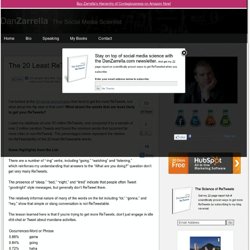 The 20 Least ReTweetable Words | Dan Zarrella - Flock
I've looked at the 20 words and phrases that tend to get the most ReTweets, but what about the flip-side of that coin? What about the words that are least likely to get your ReTweets? I used my database of over 30 million ReTweets, and compared it to a sample of over 2 million random Tweets and found the common words that occurred far more often in non-ReTweets.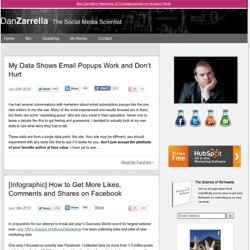 Dan Zarrella, Social Media Marketing and Viral Marketing Scienti
I've had several conversations with marketers about email subscription popups like the one new visitors to my site see. Many of the most experienced and results focused are in favor, but there are some "marketing gurus" who are very vocal in their opposition. Never one to leave a debate like this to gut feeling and guesswork, I decided to actually look at my own stats to see what story they had to tell. These stats are from a single data point, this site. Your site may be different, you should experiment with any tactic like this to see if it works for you, don't just accept the platitude of your favorite author at face value .
30 Best Blogs of 2009 - Flock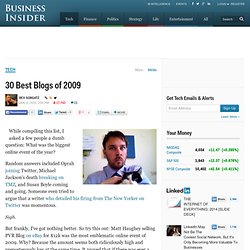 While compiling this list, I asked a few people a dumb question: What was the biggest online event of the year? Random answers included Oprah joining Twitter, Michael Jackson's death breaking on TMZ, and Susan Boyle coming and going. Someone even tried to argue that a writer who detailed his firing from The New Yorker on Twitter was momentous. Sigh. But frankly, I've got nothing better.