Paleo recipes
Comfy Belly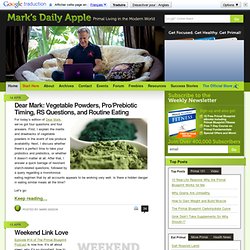 Mark's Daily Apple
Welcome! If you want to lose weight, gain muscle, increase energy levels or just generally look and feel healthier you've come to the right place. Here's where to start: Visit the Start Here and Primal Blueprint 101 pages to learn more about the Primal Lifestyle.
Paleo Mama
Paleo Diet Recipes Below you will find all of my healthy Paleo diet recipes. The Paleo diet is the diet of our ancestors. The Paleolithic era occurred during the period spanning from 10,000 to 2.5 million years ago. During that time we were hunter-gatherers.
Paleo Diet Recipes - Healthy Paleo Recipe Menu Plan
Paleo Diet Lifestyle | paleo diet tips and recipes
PaleoBetty | Gourmet Paleo recipes, gluten-free recipes, CrossFit success story, and more from a mac-and-cheese addict turned Paleo nut.
The Place To Go For Paleo - itsPALEO - Free Paleo Recipes, Paleo Diet News
Nom Nom Paleo
Everyday Paleo from Sarah Fragoso - Paleo Recipes and Paleo Talk Podcast
Civilized Caveman - Gluten Free Paleo Recipes
All Recipes
Mock Potato Soup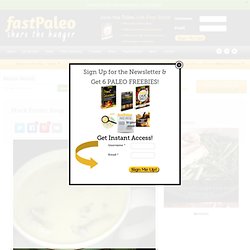 Prep your cauliflower first and set aside. (This is great to freeze too so make ahead and save yourself time.) Cut your bacon up into small bits and saute in bacon grease, set aside.
Paleo Diet Recipes | Home of delicious paleo recipes
The recipes you prepare can be as simple or as sophisticated as you want. You can simply decide to throw a piece of meat in the oven, pan or crock-pot and then serve it with a side of your favorite roasted or steamed vegetables and a big dollop of ghee, lard or coconut oil. On the opposite side, if you want to impress guests or create something very special for your loved ones, there are endless possibilities for soups, salads, stews, omelets, curries, sauces, roasts, … You can use herbs and spices like basil, dill, garlic and ginger to create delicious marinades and vinaigrettes.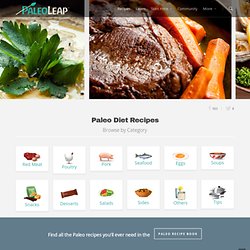 Health-Bent | Paleo Diet recipes that don't look or taste like dog food.
PaleOMG - Paleo Recipes