Paleo recipes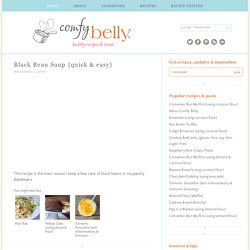 I love sweet things. That much is probably clear to you from my many recipes that are of the sweet kind. I'm trying to reduce the amount of sweetener I use in recipes even further, so you're about to see some changes around here.
Comfy Belly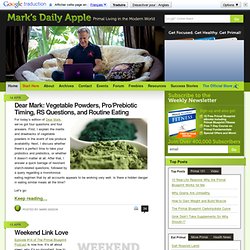 Mark's Daily Apple
Welcome! If you want to lose weight, gain muscle, increase energy levels or just generally look and feel healthier you've come to the right place. Here's where to start: Visit the Start Here and Primal Blueprint 101 pages to learn more about the Primal Lifestyle.
Paleo Mama
Paleo Diet Recipes Below you will find all of my healthy Paleo diet recipes. The Paleo diet is the diet of our ancestors. The Paleolithic era occurred during the period spanning from 10,000 to 2.5 million years ago. During that time we were hunter-gatherers.
Paleo Diet Recipes - Healthy Paleo Recipe Menu Plan
Paleo Diet Lifestyle | paleo diet tips and recipes
Our seriously intimidating 2.5 pound live lobster. I am a carnivore. I love meat… grilled, cured, raw, stir-fried, dried, whatever. I'm a huge fan of all pork products, from bacon to jamon to pork belly to chops.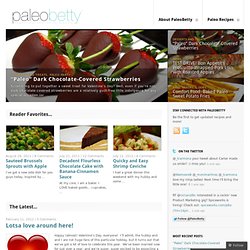 PaleoBetty | Gourmet Paleo recipes, gluten-free recipes, CrossFit success story, and more from a mac-and-cheese addict turned Paleo nut.
The Place To Go For Paleo - itsPALEO - Free Paleo Recipes, Paleo Diet News
Meat, Root, Vegetable, Fruit Let me make Paleo Lifestyle Design eating for you as simple as humanly possible: Meat, Root, Vegetable, Fruit. Yes, it rhymes. Say it again: Meat, Root, Vegetable, Fruit.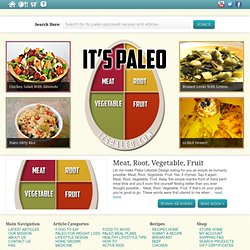 Nom Nom Paleo
Who's ready for a fresh start to the year? To inspire you to kick off 2014 with some deliciously healthy eats, over the course of January, I'm going to lay out four weeks' worth of lip-smacking, nourishing grub. And don't worry if you're on the straight-and-narrow this month—I chose recipes of mine that should fit into any Paleo template, whether you're on a short-term dietary reset like the Whole30 or 21 Day Sugar Detox, or you've settled into an everyday real-food approach. Before we get started, I should point out that this isn't meant to be a meal plan. In these posts, I won't be telling you what to eat for breakfast, lunch, and dinner, and you certainly shouldn't feel compelled to make every single thing listed (though you certainly can, if you feel like it!). Instead, I hope that some or all of these recipes will strike your fancy, and spark ideas about other dishes you can make this month and beyond.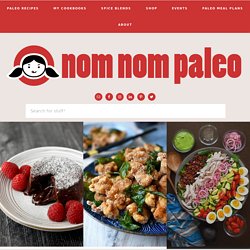 Everyday Paleo from Sarah Fragoso - Paleo Recipes and Paleo Talk Podcast
Civilized Caveman - Gluten Free Paleo Recipes
All Recipes
Mock Potato Soup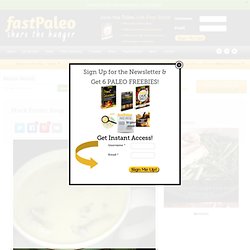 Prep your cauliflower first and set aside. (This is great to freeze too so make ahead and save yourself time.) Cut your bacon up into small bits and saute in bacon grease, set aside.
Paleo Diet Recipes | Home of delicious paleo recipes
Health-Bent | Paleo Diet recipes that don't look or taste like dog food.
Latest Creamy Cucumber Dill Salad I'm leaving for Austin today!! I'm so excited to go. It's been almost a year since I've seen most of my blogging friends. And last year I was… Read More »
PaleOMG - Paleo Recipes