Nailsss
Tutorials. Nail Art Tape & Sequins Tutorial. Nail Art Tape & Sequins Tutorial I've seen this look a few times and every time I kept thinking I have that glitter, I should do that!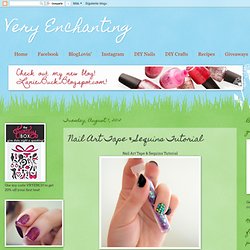 I haven't done anything with my nails for about two weeks so I thought now is the time to do the sequin nails, I have put it off enough! I gave it a try and I am very happy with how it came out, my ring finger is a little messy but I still like it. Here's what you'll need: A top coat (I use Rimmel Base and Top Coat), base color, sequins glitter, & nail art tape. First, prep for your manicure, to make it last longer. 10 Nail Tutorials Even a Newbie Could Do. By Jaime Morrison Curtis | Give your nails a little lovin' with simple tutorials that take no time at all.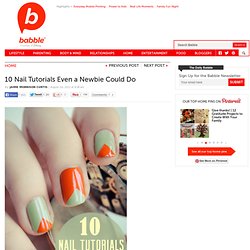 Have you seen the new galaxy nail trend? I promise, it's way easier than it really looks. It can get frustrating not being able to make perfectly neat and straight lines like these geometric nails, but I think you'll find that a little scotch tape will go a long way. 12 Amazing DIY Nail Art Designs Using Scotch Tape. PerfectShapeOnNailsWM. Perry the Platypus Nail Design Tutorial - A CutePolish Disney Exclusive! Nail insiration ♥ Ombre stain. Create Ombre Nails With Just One Polish. After progressing from hair to fashion, the ombré trend has made its way to your manicure.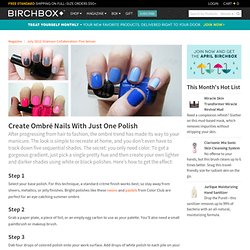 The look is simple to recreate at home, and you don't even have to track down five sequential shades. The secret: you only need color. DIY Tie Dye Nails ~ Red, White, & Blue Manicure for the 4th of July. I'd been planning a festive red, white, & blue manicure for the 4th of July but hadn't really come up with any original ideas until I featured a fun tie dye manicure tutorial on BlogHer Style over the weekend and was instantly hit with inspiration.
But let me just warn you… this is not a project for the impatient or short-tempered, and why I decided to tie dye only six of my ten nails. However, my nails are very short at the moment and this, along with many nail art techniques are far easier with a larger canvas to paint on. How To: Splatter Paint Nails | Pretty Gossip. With the Olympic trials in full swing and the 4th of July right around the corner, I decided to get patriotic with my nail art this weekend!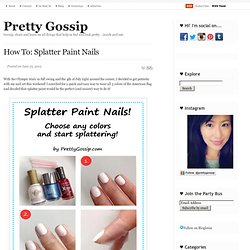 I searched for a quick and easy way to wear all 3 colors of the American flag and decided that splatter paint would be the perfect (and easiest) way to do it! What you'll need: - 1 paper plate (Thick or waxed paper plates work best. Foil is also an option) - Tape and scissors - A couple of Q-tips - Nail polish remover - 1 straw cut in half.
---