Motion
Formation After Effects gratuite - e-learning pour débuter. After Effects est un logiciel d'effet spéciaux (dans le jargon, on dit compositing) édité par Adobe.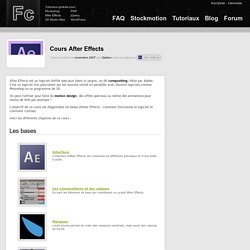 C'est un logiciel très polyvalent qui est souvent utilisé en parallèle avec d'autres logiciels comme Photoshop ou un programme de 3D. On peut l'utiliser pour faire du motion design, des effets spéciaux ou même des animations pour menus de DVD par exemple ! L'objectif de ce cours est d'apprendre les bases d'After Effects : comment fonctionne le logiciel et comment l'utiliser. Photo Effects : 50 Best Photoshop Photo Effects Tutorials. I've collected 50 best Photoshop photo effects tutorials that will inspire and help you to master Photoshop photo effects .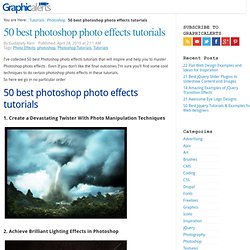 Even If you don't like the final outcomes I'm sure you'll find some cool techniques to do certain photoshop photo effects in these tutorials. So here we go in no particular order 1. Create a Devastating Twister With Photo Manipulation Techniques 2.
---