C/c++
Objective-C is a general-purpose , high-level , object-oriented programming language that adds Smalltalk -style messaging to the C programming language. It is the main programming language used by Apple for the OS X and iOS operating systems and their respective APIs , Cocoa and Cocoa Touch . Originally developed in the early 1980s, it was selected as the main language used by NeXT for its NeXTSTEP operating system, from which OS X and iOS are derived. [ 1 ] Generic Objective-C programs that do not use the Cocoa or Cocoa Touch libraries can also be compiled for any system supported by GCC or Clang . [ edit ] History Objective-C was created primarily by Brad Cox and Tom Love in the early 1980s at their company Stepstone .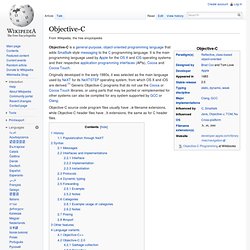 The Function Pointer Tutorials - Index
C++ Templates - Function Templates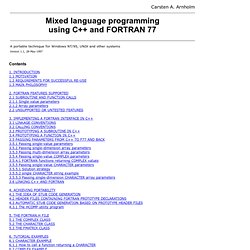 CPPF77
Contents 2. FORTRAN FEATURES SUPPORTED 2.1 SUBROUTINE AND FUNCTION CALLS 2.1.1 Single value parameters 2.1.2 Array parameters 2.2 UNSUPPORTED OR UNTESTED FEATURES 3. IMPLEMENTING A FORTRAN INTERFACE IN C++ 3.1 LINKAGE CONVENTIONS 3.2 CALLING CONVENTIONS 3.3 PROTOTYPING A SUBROUTINE IN C++ 3.4 PROTOTYPING A FUNCTION IN C++ 3.5 PASSING PARAMETERS FROM C++ TO F77 AND BACK 3.5.1 Passing single-value parameters 3.5.2 Passing single-dimension array parameters 3.5.3 Passing multi-dimension array parameters 3.5.4 Passing single-value COMPLEX parameters 3.5.4.1 FORTRAN functions returning COMPLEX values 3.5.5 Passing single-value CHARACTER parameters 3.5.5.1 Solution strategy 3.5.5.2 single CHARACTER string example 3.5.5.3 Passing single-dimension CHARACTER array parameters 3.6 LINKING C++ AND FORTRAN 4.
Tutorial: Using C/C++ and Fortran together
Order of multi dimensional arrays in C/C++ is the opposite of FORTRAN. Native FORTRAN layout (collumn-major order): INTEGER A(2,3) Or INTEGER A(2,2,2) Native C layout (row-major order) is NOT equivalent to the FORTRAN layout: int a[2][3];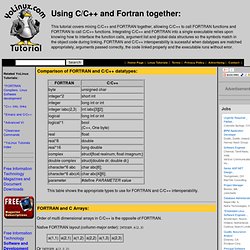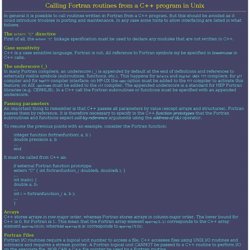 Calling Fortran routines from a C++ program in Unix In general it is possible to call routines written in Fortran from a C++ program. But this should be avoided as it could introduce troubles in porting and maintenance.
Calling Fortran routines from a C++ program
Organizing Code Files in C and C++
Whoops! What happened to this page? We seem to be having trouble finding the page you are looking for. As we continue to roll out areas of the website and fix up sections that are in place but not yet complete, we would recommend redirecting your request. Please visit archive.gamedev.net for a static representation of the old site. Following links within the site should get you to the article or resource you were most likely looking for when you reached this page.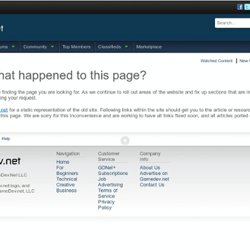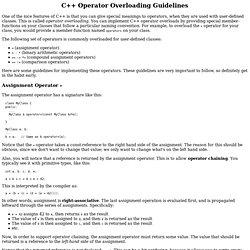 One of the nice features of C++ is that you can give special meanings to operators, when they are used with user-defined classes. This is called operator overloading . You can implement C++ operator overloads by providing special member-functions on your classes that follow a particular naming convention. For example, to overload the + operator for your class, you would provide a member-function named operator+ on your class. The following set of operators is commonly overloaded for user-defined classes:
C++ Operator Overloading Guidelines