Supplies
Organic Supplements and Snacks, Raw Super Food Diet, Mineral Rich Foods
Living Tree Community Foods - Raw, Organic & Kosher Food
CENTRAL MILLING : PREMIUM BAKING FLOUR
Blue Mountain Organics - Organic Raw and Sprouted Foods,Raw foods, raw food, organic food store, Sprouted foods
Wheat Montana ~ Home
Massa Organics :: California Whole Grain Brown Rice
Certified Organic Milk & Dairy Products | Straus Family Creamery
Buy Organic Baking, Organic Cooking Ingredients & Supplies in Bulk Sizes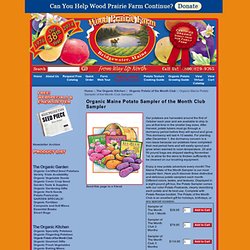 Our potatoes are harvested around the first of October each year and are available to ship to you at that time in the smaller bag sizes.
Potato of the Month Club Sampler
Farm Fresh To You
Buy Fresh Organic Flour, Cornmeal, Gourmet Baking Mixes, Gluten Free Flours, Easy Baking Recipes -- all from War Eagle Mill, in Rogers Arkansas next to Eureka Springs
Oops! Sorry, the page you requested either doesn't exist or isn't available right now! Please check the URL for proper spelling and capitalization.
The biggest myths about "natural" meat busted - Healthy Living on Shine