Supplies
Vitamins and Supplements, Natural Health Products, Organic Foods - Swanson Health Products.
Cultures for Health: Yogurt Starter, Sourdough Starter, Kombucha, Kefir Grains, Cheese Making and more | Supplies for a Real Food Lifestyle. Organic Supplements and Snacks, Raw Super Food Diet, Mineral Rich Foods. Living Tree Community Foods - Raw, Organic & Kosher Food. CENTRAL MILLING : PREMIUM BAKING FLOUR. Blue Mountain Organics - Organic Raw and Sprouted Foods,Raw foods, raw food, organic food store, Sprouted foods. AT BLUE MOUNTAIN ORGANICS™ WE BELIEVE THAT:Pure, wholesome food heals, cleanses and revitalizes the body.Organic growing practices support healthier soil and better crops in the future.A diet that consists mostly of organically-grown, whole plant-based foods can help prevent disease.Raw, organic foods contain important natural phytochemicals that can contribute greatly to maintenance and repair of our bodies.The healthy co-existence of humans, food and the environment is an imperative, not an option.Good nutrition is the key to a healthy body and a sharper mind.Each one of us can affect our own good health and the health of our families through better food choices.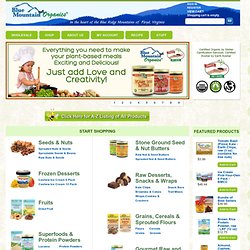 Blue Mountain Organics is a premier provider of certified organic raw and sprouted nuts, nut butters, flours, grains, dried fruits, and superfoods. We are located in the heart of the Blue Ridge Mountains in the small agricultural community of Floyd, Virginia. "Let your food be your medicine, and your medicine be your food. " Wheat Montana ~ Home. Certified Organic Milk & Dairy Products | Straus Family Creamery. Buy Organic Baking, Organic Cooking Ingredients & Supplies in Bulk Sizes. Potato of the Month Club Sampler. Our potatoes are harvested around the first of October each year and are available to ship to you at that time in the smaller bag sizes.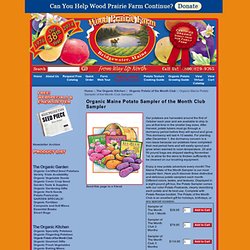 After Harvest, potato tubers must go through a dormancy period before they will sprout and grow. This dormancy will last 4-10 weeks. For planting after December 1, the dormancy concern is a non-issue because our potatoes have completed their rest period here and will easily sprout and grow when warmed to room temperature. 20 and 50 pound bags are shipped starting November 1st, to allow for the skins to thicken sufficiently to be cleaned on our brushing equipment. Enjoy a new potato adventure every month! Farm Fresh To You. Buy Fresh Organic Flour, Cornmeal, Gourmet Baking Mixes, Gluten Free Flours, Easy Baking Recipes -- all from War Eagle Mill, in Rogers Arkansas next to Eureka Springs. The biggest myths about "natural" meat busted - Healthy Living on Shine.
Conde Nast Digital StudioAmy Paturel, SELF magazine Agave nectar is generating a lot of buzz in the health food sector, and it holds special appeal for those of us trying to steer clear of high fructose corn syrup (HFCS).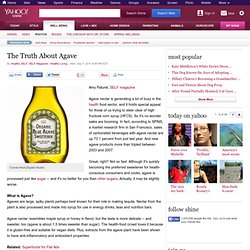 So it's no wonder sales are booming. In fact, according to SPINS, a market research firm in San Francisco, sales of carbonated beverages with agave nectar are up 73.1 percent from just last year. Enjoy Organic Pierogi From Polska Foods | Polish Food Blog.
---