Writing
Like a lot of other people i want to be a writer ;-) Here are some tips.
This Is My Secret. National Novel Writing Month. The fiction circus. Jack Kerouac: 30 Cool Tips. Jack Kerouac was one of those writers who reinvented literature.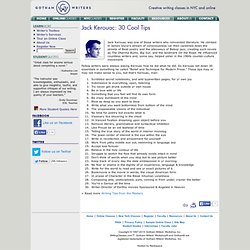 He climbed in James Joyce's stream of consciousness car then careened down the streets of Beat poetry and the alleyways of Bebop jazz, creating such novels as The Dharma Bums, Big Sur, and the landmark On the Road. He influenced countless writers and, some say, helped usher in the 1960s counter-culture movement. Fellow writers were always asking Kerouac how he did what he did. Writing Prompts. [description]Get daily creative writing prompts for your short story, fiction or nonfiction novel, essay and more at WritersDigest.com.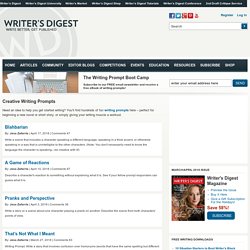 [/description] [keywords]writing prompts, creative writing prompts, expository writing prompts, writing prompt[/keywords] Need an idea to help you get started writing? You'll find hundreds of fun writing prompts here – perfect for beginning a new novel or short story, or simply giving your writing muscle a workout. Gretchen Rubin: 13 Tips For Actually Getting Some Writing Done.
One of the challenges of writing is...writing.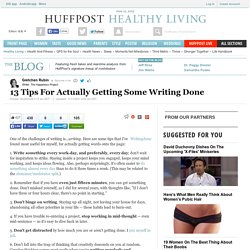 Here are some tips that I've found most useful for myself, for actually getting words onto the page: 1. Write something every work-day, and preferably, every day; don't wait for inspiration to strike.
---