Foursquare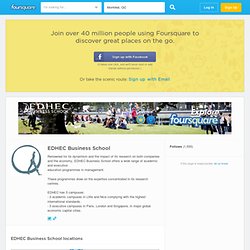 EDHEC Business School
Renowned for its dynamism and the impact of its research on both companies and the economy, EDHEC Business School offers a wide range of academic and executive education programmes in management. These programmes draw on the expertise concentrated in its research centres. EDHEC has 5 campuses: - 2 academic campuses in Lillle and Nice complying with the highest international standards. - 3 executive campuses in Paris, London and Singapore, in major global economic capital cities.
Photo : yfrog.com/gz8wkzj - Shared by iivychaang
Mobile Users Eager for Travel
foursquare application/usage
foursquare, c'est aussi et ça n'a rien à voir
concurrent de foursquare ?