Foursquare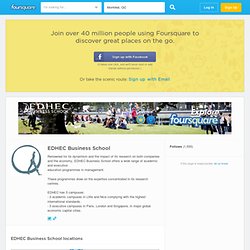 EDHEC Business School
Renowned for its dynamism and the impact of its research on both companies and the economy, EDHEC Business School offers a wide range of academic and executive education programmes in management. These programmes draw on the expertise concentrated in its research centres. EDHEC has 5 campuses: - 2 academic campuses in Lillle and Nice complying with the highest international standards. - 3 executive campuses in Paris, London and Singapore, in major global economic capital cities.
Photo : yfrog.com/gz8wkzj - Shared by iivychaang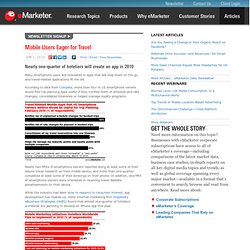 Mobile Users Eager for Travel
Many smartphone users are interested in apps that will help them on the go, and travel-related applications fit the bill. According to data from Compete, more than four in 10 smartphone owners would find trip planning apps useful if they notified them of schedule and rate changes, consolidated itineraries or helped manage loyalty programs. Nearly two-fifths of smartphone owners reported doing at least some of their leisure travel research on their mobile device, and more than one-quarter completed at least some of their bookings on their phone.
foursquare application/usage
foursquare, c'est aussi et ça n'a rien à voir
concurrent de foursquare ?