Contre l'iPad
9 Reasons NOT To Buy An iPad (PHOTOS) Trouble In Paradise: iPad Users Complain Of Wifi Issues. Just one day after launch and there are already scores of complaints on the Apple support site over faulty wifi on the iPad.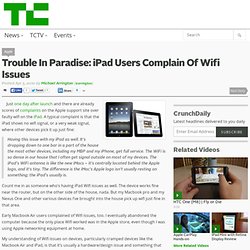 A typical complaint is that the iPad shows no wifi signal, or a very weak signal, where other devices pick it up just fine: Having this issue with my iPad as well. It's dropping down to one bar in a part of the house the most other devices, including my MBP and my iPhone, get full service. Robert Love: Why the iPad and iPhone don't Support Multitasking. Why don't the iPad and iPhone support multitasking?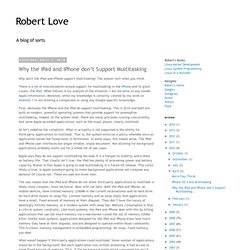 The answer isn't what you think. There is a lot of misconception around support for multitasking in the iPhone and its giant cousin, the iPad. What follows is my analysis of the situation. "L'iPad est programmé pour être rapidement obsolète" - Eco(lo) - C'est l'événement de la journée.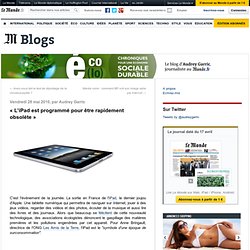 La sortie en France de l'iPad, le dernier joujou d'Apple. Une tablette numérique qui permettra de naviguer sur Internet, jouer à des jeux vidéos, regarder des vidéos et des photos, écouter de la musique et aussi lire des livres et des journaux. Alors que beaucoup se félicitent de cette nouveauté technologique, des associations écologistes dénoncent le gaspillage des matières premières et les pollutions engendrées par cet appareil. Pour Anne Bringault, directrice de l'ONG Les Amis de la Terre, l'iPad est le "symbole d'une époque de surconsommation".
---