E-LIBRERIAS
Open Library is an open, editable library catalog, building towards a web page for every book ever published. More Just like Wikipedia, you can contribute new information or corrections to the catalog.
El Corte Inglés
e-libro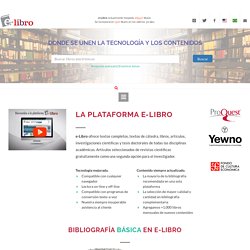 e-Libro, donde se unen Contenidos y Tecnología e-Libro ofrece textos completos, textos de cátedra, libros, artículos, investigaciones científicas y tesis doctorales de todas las disciplinas académicas. e-Libro tiene en su plataforma: >>> Libros de más de 200 editoriales que tienen contrato con nosotros y a los cuales les pagamos los derechos de autor trimestralmente. >>> Contenidos de "acceso abierto" (revistas científicas o journals, artículos científicos) seleccionados cuidadosamente, que están gratis en la plataforma y que conforman un valor agregado. Las principales características y beneficios incluyen:
Leer
Leer-e: Especialistas en lectura digital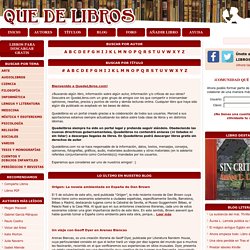 Bienvenido a QuedeLibros.com! ¿Buscando libros digitales o ebooks? Descubra en QuedeLibros.com un gran grupo de amigos con los que compartir e intercambiar opiniones, reseñas, críticas y demás lecturas online. Quedelibros es portal creado gracias a la colaboración de todos sus usuarios.
Todoebook, la web del ebook. Comprar y descargar libros de cada editorial.