Making Money
Many of our customers are entrepreneurs. In this post, I thought I'd try to light the entrepreneurial fire under some of our other readers by publishing the world's longest list of ways to make money. I aimed to include as many ways to make money that don't require special training as possible (and I'll add to the list over time so bookmark it now). Without further ado, the list… Update (April 20, 2011): We've grown considerably over the last few months and, accordingly, it's time to scale our transcription team. If you're interested in working as a transcriptionist for AudioTranscription.Org, please visit our transcription jobs page.
Overseas Jobs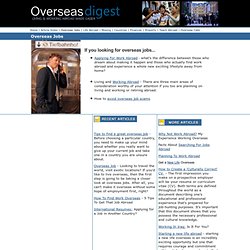 Tips to find a great overseas job - Before choosing a particular country, you need to make up your mind about whether you really want to give up your current job and take one in a country you are unsure about. Overseas Job - Looking to travel the world, visit exotic locations? If you'd like to live overseas, then the first step is going to be taking a closer look at overseas jobs.
5 Common Mistakes of Beginning Travel Writers
Purchase a Dave's ESL Cafe Sponsored Anouncement! Click Here To Order! Escape to Beautiful, Sunny BALI and Get TEFL/TESOL Certified, Just 1 Minute from the Beach Only US$890 for your 120-hour TEFL/TESOL course; US$850 each if you enroll with a friend. April & May 2014 courses enrolling NOW!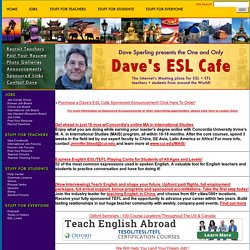 WrittenRoad
March 1st, 2013 By BootsnAll | Comments Off Southeast Asia has long been a great budget travel destination, but in this day and age of location independence jobs, it's become a haven for people whose office consists of their laptop and an internet connection. If you're a travel writer who is not tied down to a particular place, look into heading to SE Asia to live, work, and travel.