Airfare
Tripeedo
Flights | Business Class | First Class | Group Travel | Corporate Travel | Around The World | Hotels | Visa / Passport | Insurance | Blog | more * Some restrictions may apply, to read more about these fares click here Top 3 Reasons Why People Choose Wholesale Flights: Cost : We offer bulk fares that are simply unobtainable through online websites or the airline directly. Service : Each client is assigned a personal travel consultant who is available at no cost. Trust : We are a licensed and bonded full service travel agency.
Wholesale Flights
Hipmunk has an iOS app. Get it from iTunes » no thanks Hipmunk has an Android app.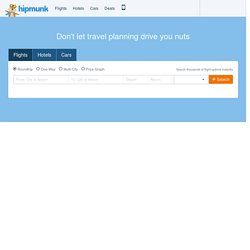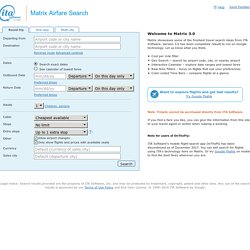 The "sales city" refers to the city in which a ticket will be sold. We will price your trip in the currency of the sales city, unless you explicitly specify a different currency. By default, we assume that the sales city is the same as your journey origin.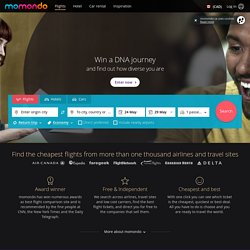 Language Currency Flights Hotel
Kayak explore mode