Loisirs
Hank Marvin - Django's Castle
Jazz - Histoire, Festivals, concerts, clips...
Lady Gaga: Imagine
My Yiddishe Momme (sung in yiddish) Regine Zylberberg
Martin Grubinger - Percussive Explosion
Martin Grubinger: Connected by Drums
Nat King Cole - Nature Boy (With Lyrics)
Nature Boy
"Nature Boy" is a song by eden ahbez, published in 1947. The song tells a fantasy of a "strange enchanted boy... who wandered very far" only to learn that "the greatest thing... was just to love and be loved in return".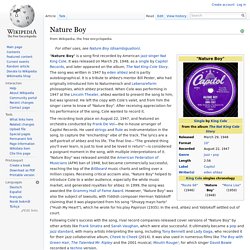 NAT KING COLE - NATURE BOY.
Nat king cole, Nature Boy
Jeanne Moreau - Le Tourbillon
Vanessa Paradis le tourbillon de la vie
The Ventures Live 1984 - Stars on Guitars
THE VENTURES - Stars on Guitars
Gregory Porter - 1960 What? (Official Music Video)
1960 What? by Gregory Porter
Giovanni Mirabassi - "Gracias A La Vida" - [Official Video]
Giovanni Mirabassi - Bella Ciao
Giovanni Mirabassi - El Pueblo Unido Jamas Sera Vencido
Giovanni Mirabassi / Les Chant des Partisans [Avanti! /2000]
Brady Winterstein Trio, Brady Winterstein Trio