Loisirs
Hank Marvin - Django's Castle
Jazz - Histoire, Festivals, concerts, clips...
Lady Gaga: Imagine
My Yiddishe Momme (sung in yiddish) Regine Zylberberg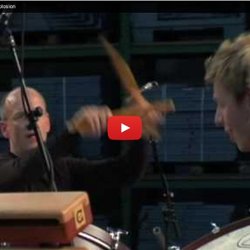 This video is currently unavailable. Sorry, this video is not available on this device. Play Pause
Martin Grubinger - Percussive Explosion
Martin Grubinger: Connected by Drums
Dieses Video ist derzeit nicht verfügbar. Das Video ist auf diesem Gerät nicht verfügbar. Wiedergabe Anhalten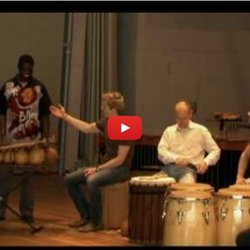 Nat King Cole - Nature Boy (With Lyrics)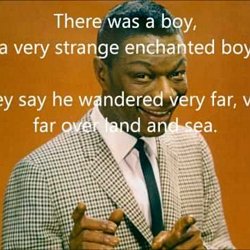 Cette vidéo est actuellement indisponible. Désolé, cette vidéo n'est pas disponible sur cet appareil. Lire Pause
Nature Boy
"Nature Boy" is a song by eden ahbez, published in 1947. The song tells a fantasy of a "strange enchanted boy... who wandered very far" only to learn that "the greatest thing... was just to love and be loved in return". Nat King Cole's 1948 recording of the song was a major hit and "Nature Boy" has since become a pop and jazz standard, with dozens of major artists interpreting the song. Song origin[edit] Yiddish theater star/producer Herman Yablokoff, in Memoirs of the Yiddish Stage, claimed that the melody to "Nature Boy" was plagiarized from his song "Shvayg, Mayn Harts" ("Hush, My Heart"), which he wrote for his play Papirosn (1935).[1] Ahbez protested his innocence, claiming to have "heard the tune in the mist of the California mountains," but later agreed to pay Yablokoff in an out-of-court settlement.[2] The lyrics of the song relate to a 1940s Los Angeles-based group called "Nature Boys," a subculture of proto-hippies of which Ahbez was a member.[3]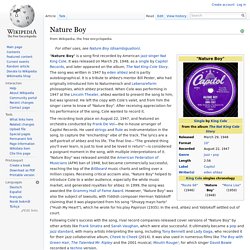 NAT KING COLE - NATURE BOY.
Nat king cole, Nature Boy
Jeanne Moreau - Le Tourbillon
Vanessa Paradis le tourbillon de la vie
The Ventures Live 1984 - Stars on Guitars
THE VENTURES - Stars on Guitars
Gregory Porter - 1960 What? (Official Music Video)
1960 What? by Gregory Porter
Giovanni Mirabassi - "Gracias A La Vida" - [Official Video]
Giovanni Mirabassi - Bella Ciao
Giovanni Mirabassi - El Pueblo Unido Jamas Sera Vencido
Giovanni Mirabassi / Les Chant des Partisans [Avanti! /2000]
Brady Winterstein Trio, Brady Winterstein Trio