Innovation
New Product Development Process
Un article de Wikipédia, l'encyclopédie libre. L'analyse SWOT ou matrice SWOT, de l'anglais Strengths (forces), Weaknesses (faiblesses), Opportunities (opportunités), Threats (menaces), est un outil de stratégie d'entreprise permettant de déterminer les options stratégiques envisageables au niveau d'un domaine d'activité stratégique (DAS ou SBU). Ce modèle a été élaboré dans les années 1960 par quatre professeurs de la Harvard Business School, Learned, Christensen, Andrews et Guth. De fait, on le rencontre quelquefois sous la dénomination "modèle LCAG" ou "Modèle de Harvard". La dénomination "SWOT" est cependant la plus fréquente. Il a plusieurs équivalents en français :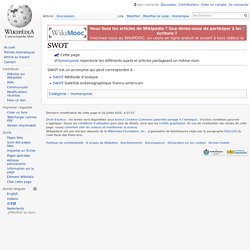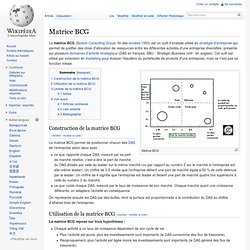 Un article de Wikipédia, l'encyclopédie libre. La matrice BCG (Boston Consulting Group, fin des années 1960) est un outil d'analyse utilisé en stratégie d'entreprise qui permet de justifier des choix d'allocation de ressources entre les différentes activités d'une entreprise diversifiée, présente sur plusieurs domaines d'activité stratégique (DAS en français, SBU - Strategic Business Unit - en anglais). Cet outil est utilisé par extension en marketing pour évaluer l'équilibre du portefeuille de produits d'une entreprise, mais ce n'est pas sa fonction initiale. Matrice BCG Construction de la matrice BCG[modifier | modifier le code] La matrice BCG permet de positionner chacun des DAS de l'entreprise selon deux axes :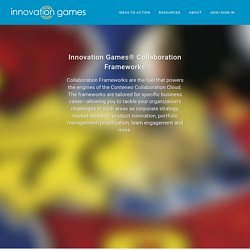 We know it sounds weird, at first: Playing games to do work. But traditional thinking is just plain wrong. Research shows that human beings have been hard-wired to express themselves and interact with each other through play. Engaging your customers, employees and stakeholders through Innovation Games delivers deeper, more actionable insight than is available through those stodgy brainstorming sessions, online surveys, focus groups or other tools. Understand your customers needsDeliver the right featuresMake better strategy decisionsIncrease empathy for your customers' experienceImprove the effectiveness of sales and servicesIdentify the most effective marketing messages and sellable featuresUncover breakthrough opportunitiesAnd have serious fun doing serious work! Our mission is to help you understand your customers and your market through game play.