Co-Creation
FirstRain - FirstRain. Hire Freelancers & Get Freelance Jobs Online. Home - Daily Crowdsource. 99tests Software Testing Community. Social Enterprise UK. Huddle: The Enterprise Content Collaboration Platform. First Questions | CommunityIntelligence Ltd. Certain Inc :: 1-to-1 Meetings. Facilitate Meaningful Connections with 1-to-1 Meetings Implement a 1-to-1 meetings program at your next event: User conferences offer an unparalleled opportunity for customers, prospects, and industry experts to connect with sales teams, product experts, and executive staff. 1-to-1 meetings ensure attendees leave your event with educational goals achieved and connections established.
Designed to ensure top buyers attend events and connect with the right suppliers, hosted buyer programs are outpacing other event types in growth. Appointment matching technology accurately matches participants, while alleviating the event professional's workload. Massolution. Fiverr: Graphics, marketing, fun, and more online services for $5. Pie. Make sense of the arguments for and against | Debate visualisation.
CatalystCreativ. Events. OuiShare Fest 2014: The Age of Communities. MySociety. MySociety. Default. Loomio | Collaborative Decision-Making.
Find Consultants & Experts for Phone Consults & Project Work | Zintro.com. Home | InnoCentive. Hire freelancers and find freelance jobs instantly | Elance. Blog. By: Haiz Oppenheimer As of March 2014, Airbnb has hit 600,000 current listings of people who are offering to rent space in their homes to overnight guests for a fee.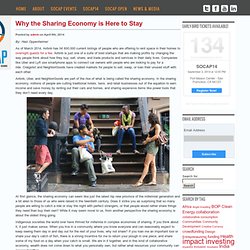 Airbnb is just one of a suite of bold startups that are making profits by changing the way people think about how they buy, sell, share, and trade products and services in their daily lives. Companies like Uber and Lyft use smartphone apps to connect car owners with people who are looking to pay for a ride. Zipinion.com. FARA Africa:
Learning and Innovation Platforms for Agricultural Knowledge and Technologies in Africa Sixty five professionals and experts on knowledge sharing and technology dissemination gathered in Mwanza, Tanzania from 1 to 5 October 2012.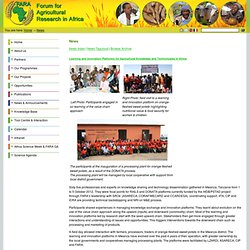 They were focal points for RAILS and DONATA platforms currently funded by the AfDB/PSTAD project through FARA's leadership with SROs' (ASARECA, CORAF/WECARD and CCARDESA) coordinating support. IITA, CIP and ICRA are providing technical backstopping and NRI on M&E process. Participants shared experiences in managing knowledge exchange and innovation platforms. They learnt about evolution on the use of the value chain approach along the upward (inputs) and downward (commodity) chain. HelpersUnite | Fueled by talent, creativity and personal connections, HelpersUnite is a crowd-giving community where people can raise funds for creative and cause-based projects and sell tickets to their special events, all in one place. Xobni | Automatic rich profiles + email history + lightning fast search.
Formspring. Be yourself.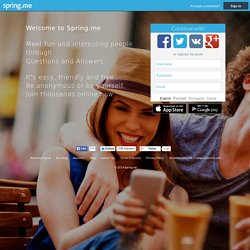 Be anonymous. Be anyone. Ask and answer - anything and anybody! CauseVox | The easy-to-use, customizable online fundraising platform for non-profits. Online Fundraising Website for Events and Causes | FirstGiving.com. Buzzbnk - Positive People Backing Bright Ideas. CrowdEngineering - Crowdsourcing Customer Service. Lots of needs. Invest in the solutions. - 33needs.
---