Co-Creation
Find freelancers at the world's most-trusted online workplace. Elance is where businesses go to find, hire, collaborate with and pay leading freelancers from more than 180 countries. With a community of over 3 million freelancers and 1 million businesses, on Elance it's easy to hire a top freelancer. Find a developer, freelance designers or other talented freelancers with the most in-demand skills. More than a marketplace for freelance web developers, there's a world of talented people now freelancing on Elance.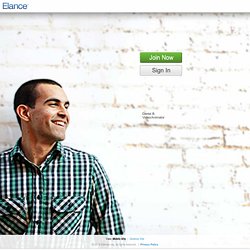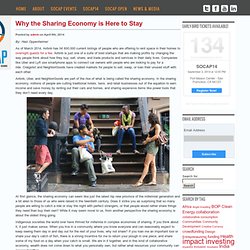 Within a few years, most of the fish we eat will be farmed, not caught. That could be a boon for already over-stressed oceans. But the worldwide explosion of aquaculture since 1970 has left its own trail of environmental destruction, from toxic concentrations of waste, to outbreaks of disease, to the continued over-harvesting of smaller ocean fish for feeding their penned brethren. A wave of aquaculture startups are trying to tackle those challenges with better technology and management.
Blog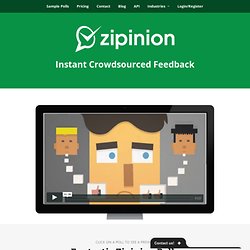 A/B Testing Choosing between creative options is one of the most crucial elements of any campaign. Zipinion will give you instant feedback on why your concept is liked, or not.
Zipinion.com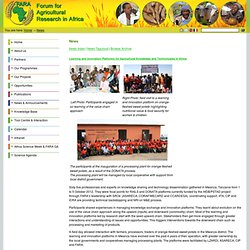 Learning and Innovation Platforms for Agricultural Knowledge and Technologies in Africa Sixty five professionals and experts on knowledge sharing and technology dissemination gathered in Mwanza, Tanzania from 1 to 5 October 2012. They were focal points for RAILS and DONATA platforms currently funded by the AfDB/PSTAD project through FARA's leadership with SROs' (ASARECA, CORAF/WECARD and CCARDESA) coordinating support. IITA, CIP and ICRA are providing technical backstopping and NRI on M&E process. Participants shared experiences in managing knowledge exchange and innovation platforms. They learnt about evolution on the use of the value chain approach along the upward (inputs) and downward (commodity) chain.
FARA Africa:
Be yourself. Be anonymous. Be anyone. Ask and answer - anything and anybody!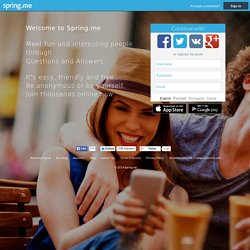 Formspring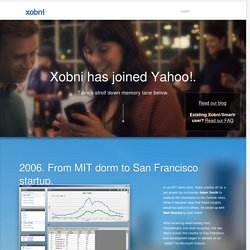 In an MIT dorm room, Xobni started off as a pet project by co-founder Adam Smith to analyze the information in his Outlook inbox. When it became clear that these insights would be useful to others, he joined up with Matt Brezina to start Xobni. After receiving seed funding from YCombinator and other investors, the two drove across the country to San Francisco, and development began in earnest on an "addon" for Microsoft Outlook.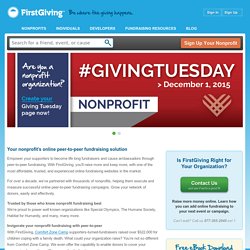 FirstGiving is dedicated to one purpose: empowering passionate nonprofit supporters to raise more money than they ever thought possible for the causes they care about. We partner with nonprofit organizations to allow them to plan, execute, and measure successful online fundraising campaigns and charity fundraising events with our fundraising software. For individual fundraisers, we aim to make it easy, effective, and even fun to raise money online! For donors, we take the friction out of making a secure online donation. Our simple, yet powerful tools, along with the fundraising tips and fundraising ideas on FirstGiving, allow nonprofits and their supporters to meet and exceed their goals of raising money for important causes, building awareness, and expanding the world of giving. Featured Causes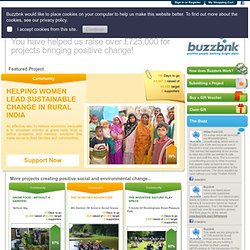 Lending via Buzzbnk involves significant risks and lenders may not recover all or part of any loans advanced, therefore lenders should not participate in lending to a Project unless they can readily bear the consequences of such a loss. Loans are unsecured and the primary purpose of lending via Buzzbnk is to enable the positive social or environmental outcome the project seeks to achieve and any financial returns should be secondary. Any person who is in any doubt about lending to a Project featured on this Site should consult an independent financial advisor or other appropriately qualified persons. SellAVenture LLP (trading as Buzzbnk) is regulated under an Interim Permission (CCI-IP-055569) by the Financial Conduct Authority (FCA) and will become fully authorised as per the FCA Loan-based crowdfunding timetable set. Lending via Buzzbnk is not covered by the Financial Services Compensation Scheme.
Foster collaboration based on social knowledge Reduce cost by improving and promoting customer self-serviceIncrease customer satisfaction by providing faster answersImprove knowledge share among your employeesUtilize all your information to give better serviceImprove the quality of your workforce Click here for Crowd4Any details...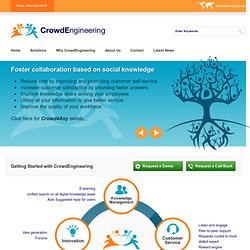 CrowdEngineering - Crowdsourcing Customer Service
Web's Largest listing of crowdsourcing and crowdfunding events Web's Largest Directory of Sites 2,558 crowdsourcing and crowdfunding sites