Film-making
How to Make DIY Squibs | Refocused Media
DIY Squibs are an essential part of indie action filmmaking, used by thousands of films all over the world. They allow you to give the effect of a bullet hit or expulsion of blood from the body of an actor.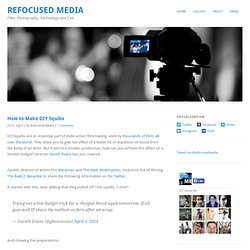 Filmmaking Infographics
sound search
Maya Deren (April 29, 1917 – October 13, 1961), born Eleanora Derenkowskaia (Russian: Элеоно́ра Деренко́вская), was one of the most important American experimental filmmakers and entrepreneurial promoters of the avant-garde in the 1940s and 1950s. Deren was also a choreographer, dancer, film theorist, poet, lecturer, writer and photographer. The function of film, Deren believed, like most art forms, was to create an experience; each one of her films would evoke new conclusions, lending her focus to be dynamic and always-evolving.[1] She combined her interests in dance, voodoo and subjective psychology in a series of surreal, perceptual, black and white short films. Using editing, multiple exposures, jump cutting, superimposition, slow-motion and other camera techniques to her fullest advantage, Deren creates continued motion through discontinued space, while abandoning the established notions of physical space and time, with the ability to turn her vision into a stream of consciousness.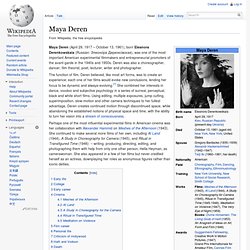 Maya Deren
Getting Permission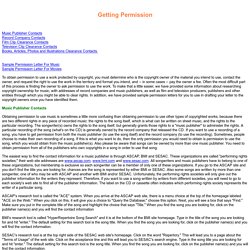 Getting Permission Music Publisher ContactsRecord Company ContactsFilm Clip Clearance ContactsTelevision Clip Clearance ContactsBooks, Articles, Photos and Illustrations Clearance Contacts
INTERVIEW PROJECT - 2010 WEBBY AWARDS WINNER
The Emperor's Naked Army Marches On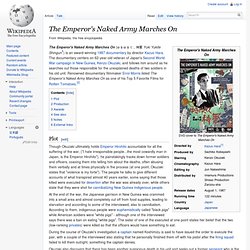 The Emperor's Naked Army Marches On (ゆきゆきて、神軍, Yuki Yukite Shingun?)
Ron & Fez: Werner Herzog Interview 11-11-2011
Hitler wants to study film production at UC Berkeley
Filmmakers who create with the mind of a poet. - Film Forum on mubi.com
DAVID LYNCH | "Mystery Disc" | 2009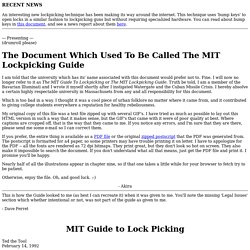 An interesting new lockpicking technique has been making its way around the internet. This technique uses 'bump keys' to open locks in a similar fashion to lockpicking guns but without requiring specialized hardware. You can read about bump keys in this document, and see a news report about them here. --- Presenting ---(drumroll please) I am told that the university which has its' name associated with this document would prefer not to.
Kermode Uncut: Another encounter with Werner Herzog
| The John Cassavetes Pages | The Independent Film Pages | Film and Other Arts Pages |