Respiration_cellulaire
Animation flash. Cellular Respiration. Cellular respiration is the process of oxidizing food molecules, like glucose, to carbon dioxide and water.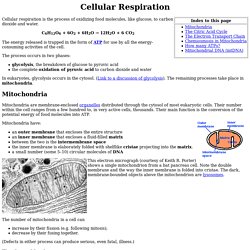 The energy released is trapped in the form of ATP for use by all the energy-consuming activities of the cell. The process occurs in two phases: glycolysis, the breakdown of glucose to pyruvic acid the complete oxidation of pyruvic acid to carbon dioxide and water In eukaryotes, glycolysis occurs in the cytosol. (Link to a discussion of glycolysis). Le metabolisme. La respiration cellulaire. Au cours de la deuxième étape, le glucose, servant cette fois d'aliment, est "brûlé" en présence d'oxygène dans les cellules de animaux et des plantes.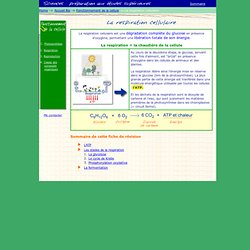 La respiration libère ainsi l'énergie mise en réserve dans le glucose (lors de la photosynthèse). La plus grande partie de cette énergie est tranféréé dans une molécule énergétique utilisable par toutes les cellules : l'ATP. Et les déchets de la respiration sont le dioxyde de carbone et l'eau, qui sont justement les matières premières de la photosynthèse dans les chloroplastes (= circuit fermé).
---