Tecnología y tendencias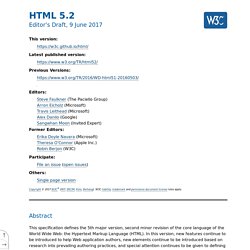 A vocabulary and associated APIs for HTML and XHTML Editor's Draft 1 April 2013 Latest Published Version:
folksemantic - #1 - Semantic web and interconnected gadgets - see the future. - gadgets, tech tools, tech toys, newest gadgets, ipod. mp3, electronic toys, TV, DVD, HiFi, CD, cell-phones, computer, netbook, notebook, bluray, HD-TV, HD, radio
The need for businesses to open up their silos of information and internal capabilities to their internal customers has become an increasingly pressing issue as organizations strive to increase operational efficiencies and innovate more effectively with existing resources in the business and technical climate of early 2008. And in the last couple of years, as exposing uniquely powerful sets of data to online business partners has moved into the mainstream in the form of open Web APIs , opening up our IT systems across the Internet has become a competitive imperative as well. Unfortunately, despite two decades of experiments in heavyweight software engineering (the alphabet soup of EAI, SOA, ESB) for solving these types integration problems, we've seen relatively marginal improvements for most implementors despite heavy investments by businesses large and small.
What Is WOA? It's The Future of Service-Oriented Architecture (SOA)
OpenSocial - Google Code
API de gráficos sociales - Google Code
Free! Why $0.00 Is the Future of Business