Tips
Power Sewing
Screen Printing 101 Screen printing, also known as silk screening, is a great way to make professional-looking printed shirts in your own home. Check out these eHow guides to learn more about the basics of screen printing. Soap Making Basics Soap making is no longer the laborious process it was 50 years ago. Modern soap bases, additives and molds result in an easy and enjoyable experience, even for the novice. Learn the basics with eHow's tips for making your favorite soaps at home.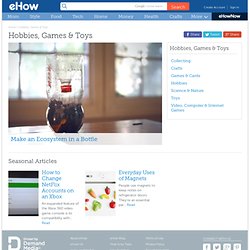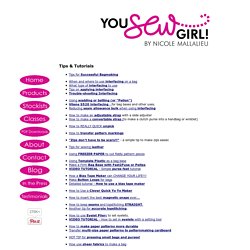 Tips & Tutorials Back to top VIDEO TUTORIAL - How to set in eyelets with a setting tool VIDEO TUTORIAL - Simple method for inserting purse feet. VIDEO TUTORIAL - How to Use a Clover Quick Yo Yo Maker This is an absolute must-read for anyone embarking on bag-making!
Selecting the correct needle for your project is just as important as selecting the fabric, thread and stabilizer. There are different sizes and types of needles for different types of fabric. The European metric sizing system for sewing machine needles is numbered from 60 to 110. The American sizing system is numbered from 8 to 18.
SINGER® SEWING CO. | Resources: Machine Needles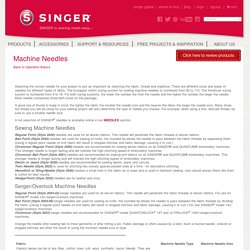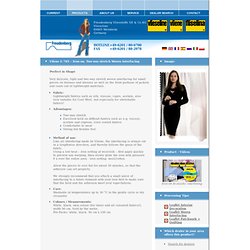 Like all interfacing made by Vilene, the interfacing is always cut in a lengthwise direction, and thereby follows the grain of the fabric. Using a low heat – iron setting at wool/silk – first apply quickly to prevent any warping, then slowly glide the iron with pressure 6 x over the entire area - iron setting: wool/cotton. Allow the pieces to cool flat for about 30 minutes, so that the adhesive can set properly. We strongly recommend that you attach a small piece of interfacing to a fabric remnant with your iron first to make sure that the hold and the adhesion meet your expectations.
Products > Interfacings > Iron-on Woven interfacings > G 785
How to Create Elastic Shirring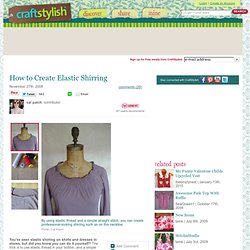 November 27th, 2008 Email 76 users recommend
An innovative technique for pattern alteration that's simple to understand and easy to do, offering options other techniques don't. by Judith Rasband from Threads #85, pp. 48-51 When I was studying pattern alteration in college, I learned that no matter what method you use to alter a pattern, when you're done, all that's really changed is the outline, or outer edge of the pattern.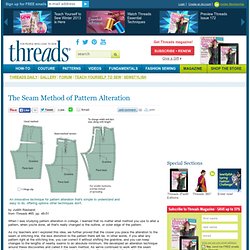 The Seam Method of Pattern Alteration