Webcomics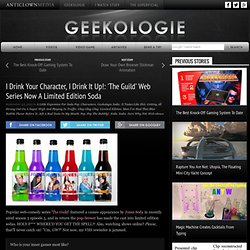 I Drink Your Character, I Drink It Up!: 'The Guild' Web Series Now A Limited Edition Soda - Geekologie
Popular web-comedy series 'The Guild' featured a cameo appearance by Jones Soda in recently aired season 5 episode 5, and in return the pop-brewer has made the cast into limited edition sodas. HOLY F*** WHERE'D YOU GET THE SPELL?! Also, watching shows online? Please, that'll never catch on! "Um, GW?"
Lady Sabre & The Pirates of the Ineffable Aether -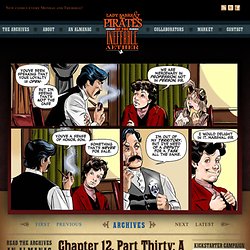 Rick is currently under the thumb of some tight deadlines, and probably doesn't appreciate that Douglas Adams quote right now. We'll spread the word as soon as our next installment goes live. In the meantime, if you're one of our Kickstarter supporters, check our recent updates for some news and preview images. We've just finished uploading a whopping 17 GB of PDFs, InDesign files, and hi-res images to the FTP server of our printer, and will keep you posted as we get back the proofs and final versions of our first collection (and supplemental materials)! Rick wound up correcting a number of pages, and drew some replacement screens from scratch, including this new image to serve as the introduction to Chapter Four:
My Year in Review II: The Credit Card of Creativity My Year In Review Part II: Getting Back on Track Posted by John There were two things I was particularly proud of in 2013. The first was making sure that family always came before work. I'm extraordinarily fortunate to be in a position where I can prioritize family life, and I take advantage of that […] My Year in Review I: "I Was a Teenage Stretch-Goal" 2013 in Review Part I: Bright Shiny Objects (OR, "I Was a Teenage Stretch-Goal") Posted by John 2013 will go down – for me, at any rate – as the year my distraction by Bright, Shiny Objects reached Critical Mass.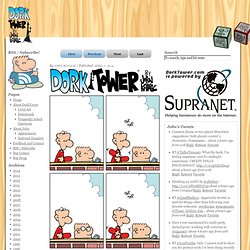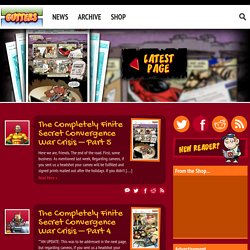 Spoiler Alert! Moss — January 17th, 2014 I think it's safe to say that while I love comics, and I do, there are maybe a few things about the Comics Industry that drive me absolutely nuts. I can take most of the silliness with a roll of the eyes and snotty commentary, but there are a couple of things that keep happening that make me genuinely angry.
Some Web-like Changes We've made a few changes to the site over the last couple of weeks, and rather just wait until you haphazardly come across them, I thought I'd point out a couple I wanted to highlight. Thusly- Comments
Looking For Group: Slaughter Your World
All images, text, graphics and characters are Copyright 2002 - 2013, Doc's Machine & Airsmith Services. All rights reserved. Unauthorized use, duplication, off-site posting or publication strictly prohibited.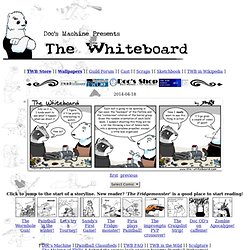 The Whiteboard, a somewhat paintball-related webcomic by "Doc" Nickel