Doctor Who
Megan Lara: Fine Art & Illustration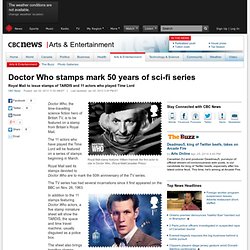 Royal Mail stamp features William Hartnell, the first actor to star in Doctor Who. (Royal Mail/Canadian Press) Doctor Who, the time-travelling science fiction hero of British TV, is to be featured on a stamp from Britain's Royal Mail.
Doctor Who stamps mark 50 years of sci-fi series - Arts & Entertainment
Pp7B8AKmBkKm65cL5TtzXw2.png (PNG Image, 500 × 416 pixels)
NYCC | Fifth Doctor Peter Davison Looks Back On 50 Years of Who
From 1981 to 1984, Peter Davison played the fifth incarnation of the titular hero of Doctor Who, a role he has reprised for more than a decade now in regular audio plays released by Big Finish Productions. During a panel at New York Comic Con, the actor shared with hundreds of fans his history with the hit sci-fi franchise and his thoughts on the new series. "This is the only [convention] I've done in New York," Davison revealed to the packed room before jumping into his experiences with fans. "When I come to a Who convention, I quite often get given books people have written, stories people have written," he said.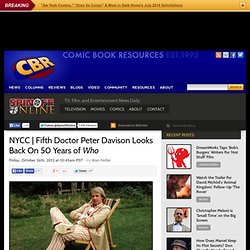 Doctor Who's Sonic Screwdriver! Could It Exist?! - Fact or Fictional with Veronica Belmont
An interactive journey that takes you on an adventure through space and time. Step through a crack in time and help the Doctor, armed with his Sonic Screwdriver to escape from his foes, fly the TARDIS and come face-to-face with some of the scariest monsters seen on screen. Featuring exclusive filmed sequences with Matt Smith and packed with amazing special effects this multi-sensory experience is fun for the family and fans alike. After your action-packed journey with the Doctor, there is so much more to see...
Doctor Who Experience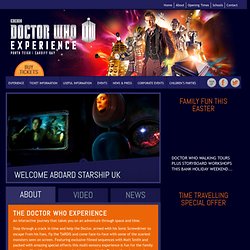 is Copyright to DWO Media,1996-2014. Site Editor: Sebastian J. Brook Chief Technical Officer: Rob Halliday DWO News, Reviews & Features Team: Sebastian J.
Doctor Who Online - News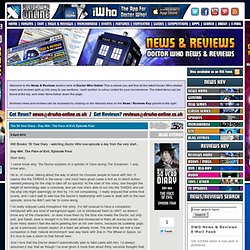 Will Brooks' 50 Year Diary - watching Doctor Who one episode a day from the very start... Day 461: The Face of Evil, Episode One Dear diary, When I was watching Genesis of the Daleks, I mentioned a work colleague who used to watch Doctor Who back in the 1970s, but only really has a passing interest in the show these days. Every now and then, he asks me how the marathon is going, and I update him as to my whereabouts in the run. I told him the other day that Sarah Jane had just left the TARDIS, and his face completely lit up.
A new Doctor Who audio adventure, starring one of the original actors to play the Doctor on television, is released by Big Finish every month in the Main Monthly Range. Doctors featured in this range are Fifth Doctor Peter Davison, Sixth Doctor Colin Baker, Seventh Doctor Sylvester McCoy and Eighth Doctor Paul McGann. The Companion Chronicles tell stories of the Doctor through the eyes of his most trusted friends, also released on a monthly basis.
Big Finish - Doctor Who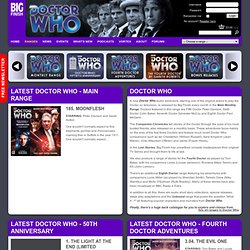 BBC iPlayer - Doctor Who: Doctor Who: Orbis: Episode 1
Dr Who timelines + infographs