Doctor Who
Megan Lara: Fine Art & Illustration
Royal Mail stamp features William Hartnell, the first actor to star in Doctor Who. (Royal Mail/Canadian Press) Doctor Who , the time-travelling science fiction hero of British TV, is to be featured on a stamp from Britain's Royal Mail.
Doctor Who stamps mark 50 years of sci-fi series - Arts & Entertainment
Pp7B8AKmBkKm65cL5TtzXw2.png (PNG Image, 500 × 416 pixels)
NYCC | Fifth Doctor Peter Davison Looks Back On 50 Years of Who
From 1981 to 1984, Peter Davison played the fifth incarnation of the titular hero of Doctor Who , a role he has reprised for more than a decade now in regular audio plays released by Big Finish Productions. During a panel at New York Comic Con, the actor shared with hundreds of fans his history with the hit sci-fi franchise and his thoughts on the new series. "This is the only [convention] I've done in New York," Davison revealed to the packed room before jumping into his experiences with fans. "When I come to a Who convention, I quite often get given books people have written, stories people have written," he said.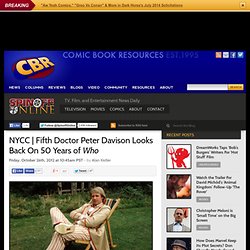 Doctor Who's Sonic Screwdriver! Could It Exist?! - Fact or Fictional with Veronica Belmont
Doctor Who Experience
Doctor Who Online - News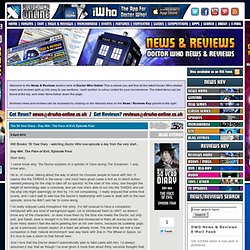 Our friends over at BBC America have sent DWO the brand new Promo Posters and Synopsis' for the first four episodes from Doctor Who Series 7 Part 2 . 7.6: The Bells Of St John The Doctor's search for Clara Oswald brings him to modern day London, where wifi is everywhere. Humanity lives in a wifi soup, but something dangerous is lurking in the signals, picking off minds and imprisoning them. As Clara becomes the target of this insidious menace, the Doctor races to save her and the world from an ancient enemy. 7.7: The Rings Of Akhaten
A new Doctor Who audio adventure, starring one of the original actors to play the Doctor on television, is released by Big Finish every month in the Main Monthly Range . Doctors featured in this range are Fifth Doctor Peter Davison, Sixth Doctor Colin Baker, Seventh Doctor Sylvester McCoy and Eighth Doctor Paul McGann. The Companion Chronicles tell stories of the Doctor through the eyes of his most trusted friends, also released on a monthly basis.
Big Finish - Doctor Who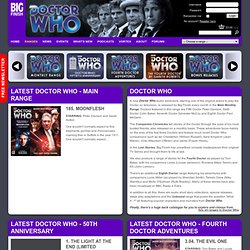 Torchwood - Official Torchwood Children Of Earth site
BBC iPlayer - Doctor Who: Doctor Who: Orbis: Episode 1
Dr Who timelines + infographs